Puerto Galera Philippines is a Southeast Asian Paradise
By PLR Reviewer
If you hear about the Philippines often the first thing you hear about is Manila. As a traveler or one who wants to travel Puerto Galera Philippines is nice to get away from the big cities every so often.
That's especially true if you live in or very close to one. Puerto Galera Philippines could be a nice getaway destination.
This unique travel destination isn't in a big city, but also isn't that far away considering miles. Puerto Galera is located at the southwestern end of the Isla Verde Passage, about 81 mi (130 kilometers) south of Manila.
Puerto Galera was just any other quiet coastal town on the northeastern coast of Mindoro Island. However, its stunning lush landscape, white sand beaches and abundant marine life, had inevitably caught the attention of local tourists from Metro Manila.
It wasn't long until Galera earned its status as being one of the best beach resorts in the Philippines. With the town's growing popularity, came the infrastructure development around the area to accommodate the big influx of both local and international tourists.
Puerto Galera Population trend:
Population in 2010: 32,521
Population in 2007: 28,035
Population in 2000: 21,925
Population in 1995: 19,485
The main destinations in the region are the Sabang Beach and White Beach, which are considered parts of the Galera in the tourism perspective. Aside from their white sand and shimmering clear water, these beaches have several bars, pubs and restaurants that make up a roaring nightlife. They also provide a wide range of accommodations ranging from first class to budget.
Sabang Beach is mainly a popular spot for the foreign visitors. It also encompasses the Big La Laguna Beach and Small La Laguna Beach, which are renowned for their suitable swimming and snorkeling conditions.
White Beach on the other hand, is more attractive to local tourists. If you want to get away from the crowd, you can spend time exploring the isolated and hidden coves and beaches that are free from the touch of modern development.
Coming to Puerto Galera means being able to do a lot of fun activities. Here, you can enjoy the beaches in various ways such as pitching tents, playing outdoor sports, enjoying bonfires, hiking, sailing and surfing. After being happily exhausted from these activities, you can relax and have local masseuse provide a wonderful massage to end your day perfectly!
Diving in Galera is some of the finest in the country. In fact, it was hailed as a Man and Biosphere Reserve of UNESCO in 1973. The Galera water hosts one of most diverse coral reefs in South Asia, and is renowned as a major technical diving destination.
You have over 30 excellent diving spots to choose from that are just within a few minutes boat ride from the shore. In addition to the diverse marine life, there are also historical wrecks in the area, which are interesting to explore.
The mountainous and lush landscape of central Mindoro, which provide a magnificent backdrop to the bay area, have tons of hidden surprises to a traveler who has the will and patience to uncover them.
Hidden Valley, as the name suggests, is a paradise off the beaten track. To get there, you need a guide or at least detailed instructions from your hotel.
Other spectacular attractions include the Tamaraw Falls, and the Alag Riverbank, which is popular for kayaking. Visiting the Mangyan, which are the local indigenous people in the region, gives you an extraordinary cultural experience.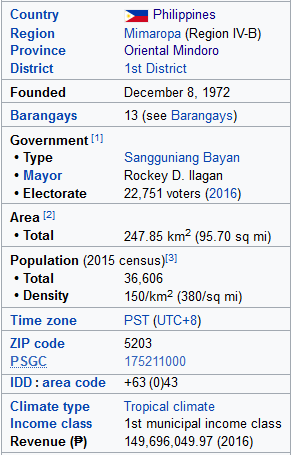 The people who are divided into several tribes, have chosen to live like their ancestors in villages over the mountainsides. In order to visit them; you need a reliable and knowledgeable guide.
Accessibility to the capital, Manila, is a characteristic that makes Puerto Galera more appealing to tourists. Private buses from the Metropolitan area operate regular routes from their respective terminals to the Batangas Pier.
From this pier, there are daily ferries that go to the different ports of the Galera region. The most popular among them is the Sabang terminal.
Besides buses and ferries you can get there by car. Puerto Galera is three hours away from Metro Manila. If you're already in Manila, getting there is pretty easy. Having a car is very convenient.
If you go by boat crossing the waters between Batangas Port and White Beach can be a thrill by itself especially during the meeting of the tides when the sea can be quite rough. However, the boatmen know these waters very well, so there is no need to panic.
These and many other adventures await you whether you travel to the Philippines or other interesting destinations.
Copyright © Travellistics.com
About the Author
Charles says you can work from home like him from most locations worldwide, especially if you're online.