Unstoppable Bad Luck Produces the Best African Safari Ever
Sometimes when bad luck occurs it seems like it will never stop. Here is a case in point.
I will only mention three of a few more incidents or African safari misadventures that I didn't have time to write about.
In spite of all the seemingly bad luck it turned out that African safari was the best one I had been on as well as the leader, Safari Kay had been on.
Sometimes bad luck can turn out to be good luck.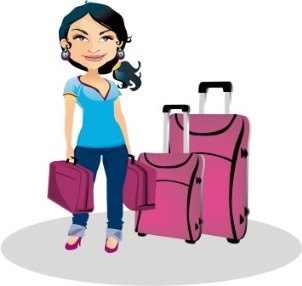 African Safari, have you ever gone on one? That's a silly question to ask most people. Why? Because there is only a small percentage of people that have had the great adventure of such a safari.
So let's put it another way. I mean go on a real African Safari. Not one to Safari Park, part of San Diego Zoo.
It's Always the Little Things that Matter
Have you ever had a great time doing anything, but in the process there were little things that seemed to creep up and maybe annoy you or threaten to ruin things at the time? Sure, we all have at one time or another.
Well that's exactly what happened to us, little things seemed to creep up that we had no control over for our great African Safari. Incidents we'd rather not experience, and some annoying little inconveniences.
It was a first for Safari Kay where a confluence of all sorts of unforeseen circumstances seemed to intervene to make our safari one we might regret.
But that's not what happened. In fact it was the opposite. It's too long to detail all the wonderful experiences we had.
But take a look at the websites mentioned here and you can get an idea of what an African Safari is.
These incidents detailed here are not the normal things that happen, but an aberration that probably would occur once in a lifetime, if at all.
In fact, I went on a similar safari in 2008 and not one of these incidents or anything like it occurred.
We had no problems there or here in the U.S. This 2010 reunion safari in which the annoyances indicated here occurred was also a first for all of us, all of which had been on safaris before except for one person.
Ridiculous stuff happens when I travel. ~ Rebecca Lobo
I Might get in Trouble for Publicizing This
So here you are getting an inside look of African Safari misadventures you will not see on other travel sites. Not too many people would dare publicize these events if it happened to them.
In fact, it's quite likely I will get chewed out by Safari Kay for publishing this article. So if this series of articles and any related articles are suddenly removed you'll know why.
I take big chances and this is one of them. Look out for the wrath of a woman if she is angry or mad at you.
In spite of such once in a lifetime mishaps we had to go through, this safari turned out to be the best one Kay, myself, and the others in our group have ever experienced.
My wife, who was making her first African Safari, just loved it.
She finally saw the adorable elephants she so admired. She even picked up the nickname Mama Tembo, tembo meaning elephant in Swahili, the native language in Tanzania where our safari was to be.
It seemed like all the little troubles we seemed to have heightened the real safari adventure.


Destined To Travel African Safari Adventure
On this safari several incidents happened to us that surprised everyone. It was because not only do they rarely happen, if ever, but all of them were out of our control.
In spite of everything it was a great African Safari adventure.
Several of us had already been on an African safari with Safari Kay of SafariKay.com. She heads her Destined To Travel agency.
There she arranges and accompanies small intimate groups of safari travelers to one of the African countries where safaris are allowed.
Those are the safe countries in Africa where there are no wars or war lords ruling over their carved out territories.
Where Kay does her safaris there are no famines and people fleeing the country like you hear every so often on TV.

Planning our Tanzania Africa Safari
When planning a safari, at least an African Safari, planning is started over a year before the actual dates of the safari.
There are so many things that have to be coordinated including arrangements with various camps. There are the safari guides if you want your own guides. Don't forget lodging accommodations and other vital necessities.
Not only that, no small thing is arranging for the plane trip there. I say trip, but it is not just one trip, but two or more connecting flights.
That's what it often takes to get you to your final destination in Africa where your safari will begin.



Africa Safari Planning Experience
Kay has done this dozens of times, not only for her safari groups she escorts there. She goes for herself and other travel agents she sometimes travels with.
When she goes with other travel agents it is usually with a FAM. A FAM (familiarization) group going with the purpose of getting familiar with accommodations.
They also want to know the various camps and tours available, and other necessary arrangements. That's including the very important safari guides if they are necessary.
In many, but not all cases, the different camps and safaris have their own guides. However, in some cases they don't or you might want to use a guide that you have worked with before. Sometimes there are other reasons.
All this and many other details have to be planned and coordinated to mesh seamlessly together. The casual safari goer probably doesn't have a clue to all the legwork that has to be done for one to go on a week or two safari.
It's a lot, and because so much of it has to be done in advance sometimes there are unintended changes that need to be made.


Arranging and Planning Flights
One of the most important, if not the most important is arranging for the plane flight over there. As most of you are aware of, plane fares change almost daily.
So to know the costs of several flights that have to be synchronized with each other a year or so in advance is difficult. B
ecause of such advance planning exact plane fares are not known until closer to the actual flight time.

Departing for Los Angeles Airport (LAX)
Well this time it seemed everything went rather smoothly. Kay was satisfied everything was taken care of well in advance of our safari departure.
We headed over to Kay's house where the majority of the group met. We were going to take a shuttle to Los Angeles some 70 miles away.
The rest of the group was in Los Angeles at the airport at the Delta check-in location.


Easy Shuttle Trip to LAX
All we needed to do was take the shuttle to the airport, which had been arranged a week or two in advance. It seemed so easy and all of us had taken the shuttle several times in the past.
We used it for trips that required us flying from LAX (Los Angeles Airport) instead of Ontario Airport. Ontario Airport is just a few minutes away from most of us.
In almost all cases except international flights we would take flights from Ontario as it was so easy. Ontario had far less traffic, easier parking.
It was often cheaper than leaving from LAX. It was easy. Tomorrow we were leaving.
Just meet the shuttle at Kay's front door at 5:15 in the morning and away we go. We slept overnight at Kay's house so there would be no unforeseen problem of us getting there so early in the morning.
No morning hour rush traffic which would have already started even earlier than we were leaving.


The Misadventure Begins
But it was not to be. The easy shuttle trip we were to take to LAX ended after we all boarded the shuttle van. The driver said he had one more passenger to pick up.
We were supposed to be the only ones in the shuttle. That had been confirmed many days in advance.
That's when the great African Safari misadventure began.
About the Author
Charles Harmon is a senior citizen of California making a few bucks online and wants to show others.
Continued … Click here for misadventure #1 Los Angeles Airport Shuttle