How to Save Money on Airfare as Prices Keep Rising
It is a great experience to travel on plane and reach the
destination
in no time, but even better if you can save on airfare in the process. It is fun to fly up in the air and experience a different view while you are traveling. However, it is not so easy to get inside a plane like you get into a bus and travel.
Unlike years ago, you now go through a lot of processes to even get into a plane. You are required to pass through customs and security checking. Unless you have certain important documents you are not allowed to travel on plane. Moreover, the cost of the air plane ticket keeps rising so it makes sense to save money on airfare if possible.
Flying on plane is just a dream for many people belonging to the lower-class. To travel on plane, one has to pay not only the travel fare but also for one's luggage and extra charges for checking like golf clubs and any pets. The airfare for the children who are traveling alone comes more because the airlines give special care them. It can cost a lot to travel on plane. However, it is still possible to save money on plane fares while traveling on airplanes and for that you need to be a little more flexible.
You need to do a little bit of research about flights that offers air tickets for low cost if you want to save money on airfare. However, watch out for the restrictions and the date you want to travel. You can compare the airfares of different flights and choose one that offers the cheapest ticket. You want to save on airfare whenever possible. Airlines have some special offers most of the time. All you need to do is to choose wisely and save a lot of money in the process when you travel on plane. Look out for the taxes and the extra fees that are included in the base cost. These fees can bring the cost of the ticket quite a bit in some cases
As an example of this, I just recently took a relatively short 2 hour trip from Ontario Southern California to Denver Colorado. I opted for the cheapest fare at the time, July 14, 2011. The cost was a low $258.60 which I thought was a bargain since some fares to the same destination cost over $100 more. When the final cost came up it was a whopping $310.10.
The fees and taxes came up to $51.50. That's 19.9% of the base price. However, I considered that a bargain because all the flights other than Southwest Airlines charged an additional fee for baggage. Had I taken one of the other airlines flights to the same destination I could have easily paid over $150 more for a ticket.
When you go for booking the air ticket, choose the off-peak days like Tuesday, Wednesday, Thursday, and Saturday. Mostly businessmen travel on the other days. These people either depart or arrive during the days like Monday or Friday and so never try to fly on these days. It would be better if you travel towards the weekend. Also, it is wise not to travel during holidays.
If you have a plan to travel on a plane after a few months, book your air ticket in advance. You can book two to four months before your travel date. When people book their tickets much earlier, the airlines will have an idea about the number of passengers traveling on such and such date and can decide on the quantity of food required to feed the passengers. You might get a chance to have a free meal while you are traveling on plane.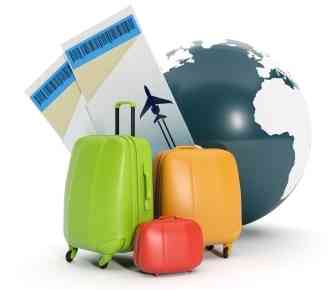 The cost of airfare keeps rising and falling all the time. If you have booked your ticket much earlier, you can check the present rate. If there is any reduction, you can ask for a refund or at least a travel voucher for future use.
You can increase your savings if you plan to travel either very early in the morning or late in the evening. If you require traveling at ten in the morning, make it a little earlier and fly on the Redeye at three in the morning. You will not only reach your flight destination earlier but also save quite a bit of money.
Direct flights can cost more than flights that land at different airports. Though direct flight takes you to the destination faster, it can cost you more than the connecting flight. If you have enough time with you, traveling on indirect flights will give you the chance to see different cities and airports. You may also get a chance to take a quick trip to the city when there is enough layover time.
Most of the airlines along with the credit card companies provide special offers. If you are a frequent traveler on plane you can collect air miles and reap a lot of benefits. You will also get a chance to choose an airline you wish to fly. Keep records and receipts of the air miles you are earning. You can also make other purchases to increase your air miles. There are usually lots of offers to gain air miles by purchasing various items and products.
Do a careful packing job and try to avoid packing bigger things that increase the number of luggage. You should be ready to miss out on something to save money on your airfare. It all depends on how cleverly you choose to travel. Flying by air is a great adventure. If you have not yet experienced it, go ahead, save money on airfare and feel the fun of flying.
Copyright © Travellistics .com
About the Author
Charles is interested in travel quizzes. He is writing blog posts on his blog.