Bora Bora: Vacation in a Beautiful Island Paradise in the Society Islands
Are you the type person who dreams of a vacation lying around on a tropical beach?
How about lazily watching the waves crash upon shore and dolphins dance across the tops of low ocean waves?
---
2 Weeks in Paradise: Tahiti, Bora Bora and Moorea in 4K
by Adventures For Two
Published on Youtube on Jun 1, 2017
We had an amazing 2 weeks during our vacation in French Polynesia: we went to Tahiti, Bora Bora, and Moorea. This paradise had some of the best snorkeling we've ever experienced; this might be one of the best places in the world to snorkel. We saw so many varieties of fish, sharks, sting rays, octopuses, manta rays, moray eels, corals, and more. On land, the beaches and scenery were breathtaking. The islands were filled with beautiful sandy beaches everywhere. The jungle was also so lush, and did not have dangerous animals. And the over water bungalows at the hotels were amazing!

---
Do this all the while sipping a tropical drink. As a result such a dream vacation allows the tensions of normal life in most places to seep away, far away.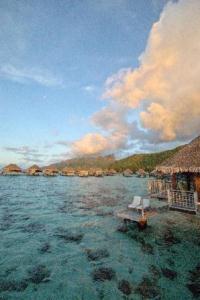 If this fits you, then Bora Bora is a perfect destination for your dream vacation. Located in French Polynesia in the South Pacific.


A Few Interesting Facts about Bora Bora
Bora Bora is a major international tourist destination.
The island is often considered a 'Romantic Island.'
Bora Bora is part of France.
There are very few, if any, to worry about. All of French Polynesia is poisonous snake and insect free!
The best or one of the best beachs in the world. Matira Beach in Bora Bora made the top 10 in a CNN article in 2013.
Hollywood likes Bora Bora. Its been featured on TV shows or movies several times.
Bora Bora is a 12 sq mi (30.55 km2) island group. It is in the Leeward group in the western part of the Society Islands of French Polynesia. It is considered an overseas collectivity of France. The main island is surrounded by a lagoon and a barrier reef.
In the center of the island are the remnants of an extinct volcano rising to two peaks, Mount Pahia and Mount Otemanu, the highest point is 2,385 feet. The Bora Bora group had a permanent population of 10,605 as of 2017. As a major international tourist destination, the island is famous for its water oriented luxury resorts.


More Facts about Bora Bora
The commune of Bora-Bora is made up of the island of Bora Bora. It also includes its surrounding islets emerging from the coral reef, 11.3 sq mi in total.
The commune is an administrative subdivision of the Leeward Islands and consists of the following associated communes: Anau, Faanui, and Vaitape. The administrative center of the commune is the settlement of Vaitape, on the island of Bora Bora proper.

Tourism and Climate
The island's economy is driven almost entirely by tourism.
Over-water bungalows are a standard feature of most of the resorts.
Most tourist destinations are aqua-centric.
Public transport on the island is non existent!
Snorkeling and scuba diving in and around the lagoon of Bora Bora are popular activities.
Average high temperature range is about 28.1 – 30.5°C 82.6 – 87.4 (°F)
Average low temperature 23.8 – 25.5 °C 74.8 – 77.9(°F)
Most rainfall occurs during the summer months (November to April). There is often high humidity at those times.


Bora Bora was once Part of a US Military Strategy in WWII
Bora Bora, an island paradise, was once part of a US military strategy in WWII. The island is a tropical island in French Polynesia. French Polynesia is more commonly known as Tahiti.
The area is made up of 118 islands, divided into five groups. In about the middle of the South Pacific Ocean is where you'll find Bora Bora, part of the volcanic Society Islands. It is about halfway between Australia and the USA.
Back after WWII Bora Bora proved to be a beaconing call to its soldiers and sailors enticing them to stay.
Many men stayed behind so they could enjoy the island's unique beauty and features, returning only when their angry family's came to drag them home.
Some never left at all, hence making their home among the islanders. They left the bloody and tragic aftermath of the war, consequently to start a new, simpler lifestyle. The military left there in 1946.


Bora Bora Today as a Vacation Paradise
Today, Bora Bora (actually locally called Pora Pora) derives its living primarily from tourists. Tourists are given the opportunity to sample the native cuisine.
They can expand their horizons with many of the native products and clothing. People can learn a new language and culture and see a side of life much like their own while still being very different.
Tourists are given a rare glimpse into a way of living that most would never have dreamed about. It is an outlook on life that cannot be found anywhere else in the world.
The main attraction on the island, however, are its beaches. You have the opportunity to realize your dreams of lying on white sand.
From there watch the gulls fly above while sipping tropical drinks and having dreams of never going home.
You can collect shells to show to your neighbors back home and go out on boats and take pictures of the scarce wildlife.
That will prove you really did spend your vacation in such a famous paradise in those South Pacific islands.


You can make Bora Bora a Vacation Destination
Visiting here you'll have the opportunity to make the kind of memories that will last a lifetime. It is about 160 miles from Tahiti where you'll want to visit too.
These are part of a chain of islands known as the Society Islands. You will bring back memories to share with your children (if they don't go with you) and friends.
One thing you'll need to note is that vacationing here and/or Tahiti is not for those seeking a budget vacation. According to Chris Guillebeau here's what you can expect to pay.
Bora Bora is exclusive and expensive because it is very hard to get to. There are limited flights to this popular island (only four per day), and they all originate in Tahiti.

Hotels are few and fancy, ranging from $400–$2,000 per night for the lowest standard rates. The average cost for a week-long holiday here starts at around $11,000 for two. Getting to Bora Bora (BOB) from the west coast of the U.S. (most flights originate in Los Angeles (LAX) and fly via Tahiti (PPT) costs an average of $2,500 per person for a return economy class ticket
The cost may be more if you return to Tahiti or stop in Tahiti. As you can see, these costs are not for the faint of heart. However, check Chris' site for budget considerations.


A Bora Bora Vacation is Certainly a Top Beach Vacation Destination
Some say Bora Bora is the most beautiful island in the world. That point can be argued. It however, is certainly right up there in the top few beautiful island destinations.
Most who have been there will agree. Consider adding this beautiful French Polynesian Island to your list of top vacation destinations.
For those few that might be reading this who are looking for a great beach honeymoon vacation, it is rated very high. Tahiti and Bora Bora are rated #1 and #2 best such places by U.S.News.
About the Author
Twinty Karat likes to write about travel and islands.
Copyright © Travellistics.com
Read More