Atlas Mountains – Spectacular Ranges meant for Exploring
The great Atlas Mountains are one of the most spectacular ranges meant for exploring.
They stretch 1,200 km from Agadir's Atlantic port to the city of Tunis, the capital of Tunisia.

However, travel experts argue that the best part of this mountain range is in Morocco. 
A vacation in the Moroccan part of the Atlas Mountains is one of a kind as it combines the magnificence of nature with the authentic Morrocan culture.  The city of Marrakesh is the gateway to the Atlas.
Trekking on the Atlas Mountains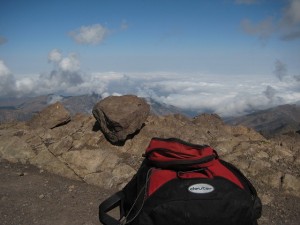 When you're up in the mountains, the best thing to do is trek. The Atlas Mountains are a delightful trekking site because of the warm climate, distinct geological features and vibrant local villages. This activity draws in the most tourists especially from various European countries like France, Great Britain and Spain.
---
Marocco. Trekking High Atlas Mountains.
by MM Outdoor
Published on Youtube on Dec 21, 2014
Trekking High Atlas Mountains. Extreme weather conditions due to storm and heavy snow fall. 13/12-17/12- 14.

---
You can choose from the four main trekking paths in the range, which are M'goun, Sahro, Sirwa and Toubkal.  The luscious M'goun trail exposes you to the biggest population of locals.
The isolated areas of Sahro and Sirwa experienced warmer weather, and are situated lower than M'goun and Toubkal. The Toubkal path leads you to the highest peak in North Africa, the Jbel Toubkal.
The Atlas Mountains range is not as crowded as others, thus, arranging for an independent hike is possible, although there are many experienced tour operators which offer extensive trekking packages. 
It's quite common to do the major trail heads with a guide and a pack mule as the costs for such services are affordable.
If you're not much of a hiker, there are other ways to experience Atlas Mountains without breaking a sweat. These include 4WD drive tours, horseback riding and mountain biking.
A number of nature enthusiasts find the Atlas Mountains environment very suitable for watching various bird species such as the Bearded Vulture, Bonelli's Eagle, Barbary Falcon and Moussier's Redstart.
People and Culture
The people inhabiting the mountains are collectively called Berber, and visiting some of these villages can a very uplifting cultural experience.
The villages are typically nestled on the mountainsides, and their structures, although simple are quite distinct. Berbers are known to be hospitable and friendly folks, and will not hesitate to invite you into their homes.
Aside from keeping their old beliefs and customs intact, they also continue to wear traditional clothing.
---
Experience MOROCCO: Camel Safari, Atlas Mountains & Desert Villages
by Gabriel Traveler
Published on Youtube on Dec 31, 2016
Exploring Morocco on a two-day excursion from Marrakesh to the Atlas Mountains to the Sahara Desert.

Experience MOROCCO: Sahara Desert Adventure & a Snowstorm
Published on Jan 7, 2017 https://youtu.be/qYVqmh9zEYA
Part 2 of my two-day excursion from Marrakesh to the Sahara Desert of Morocco.
---
Women, in particular, wear highly embellished colorful dresses with equally vibrant headscarves and sandals.
Some of the frequently visited Berber villages are the Imilchil and the Megdaz located in the M'goun section. 
Other notable attractions in the mountain area include the Tin Mal mosque, the Ouirgane town and the kasbahs In Telouet and Ait Ben Haddou.
One highlight of your journey through the Atlas Mountains is the unique Moroccan dining experience. The cuisine that you will encounter is a fusion of rich history.
It has various cultural influences such as Arab, Berber and Spanish.  Some of the popular dishes you should try are tagines and couscous.
A tagine meal is composed of a meat or vegetable stew that is cooked in an earthenware pot. Other notable flavorful dishes are pastila (pigeon pie), harira (chickpeas, lamb, tomatoes and spices), kebabs or brochettes and   m'choui, which is a clay oven roasted lamb oven that has become a staple in major Berber celebrations.