Cancun: Beauty and some Secret Attractions to Visit
Popularity of Cancun is due to the booming tourism business and all that it brings to this Mexican city located at the tip of southern Mexico where the Caribbean Sea and the Gulf of Mexico meet.
Located in the state of Quintana Roo, the older part of Cancun city is connected by bridges to the newer Cancun which was developed as a resort destination for tourists.
Some Cancun Facts
Official Name:Cancún

Country: Mexico
State Quintana Roo
Population: (2005) 526,701
Altitude: 0-10 msl (mean sea level)
Founded: April 20, 1970
Time zone: UTC -6
Postal code: 77500
Area code: 998
The Weather
The temperature in the city is warm, moderated by the marine breeze which circulates throughout the city. Temperatures are typically between 78.8°F and 96.8°F all year round.
All hotel rooms in the Hotel Zone and most on the mainland are air conditioned.
The weather is highly variable. During winter northerly storms the temperature drops sharply. In the course of a single day, the weather can turn from bright sunshine to dark and stormy and back again.
It's not uncommon to look out one window and see sunshine, while rain is falling on the opposite side. Sun showers and rainbows are quite frequent throughout the year, but especially during the summer rainy season.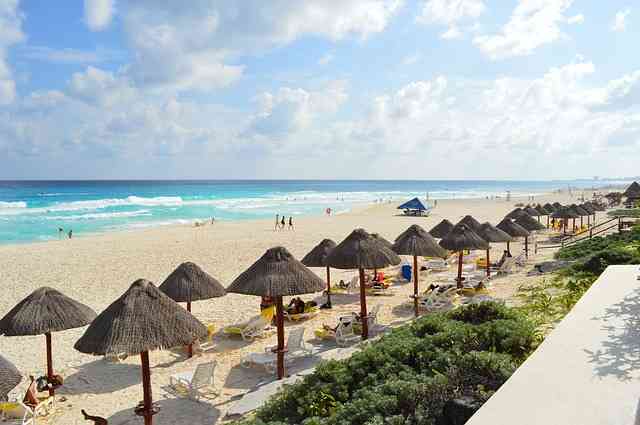 History and attractions
Cancun was begun in 1970 and was established as a city in 1972. Then American developers came in the 1980's to provide a flourishing tourist community.
Its growing popularity attracted investors from international companies all over the world. In the last 30 years, Cancun's population has grown to 600,000. Many Americans have chosen to relocate to this paradise like location.
There are about 140 hotels in Cancún with 24,000 rooms. Many of the hotels are time-share condominiums with kitchen facilities. There are also upscale private residences and lavish condominiums for rent that cater to the rich and famous.
There are about 380 restaurants. Four million visitors arrive each year in an average of 190 flights daily.


Hurricane Wilma Hit and Heavily Damaged the Coastal Area
In 2005, Hurricane Wilma hit the tropical regions and heavily damaged much of the coastal area. It is estimated that after Wilma left Cancún, the local tourism industry lost over US $15 million daily.
Many houses were devastated, and many jobs were lost. However, the aid and support of local and state governments, the federal government, the Red Cross, and civic associations, made reconstruction possible.
The beaches became much wider after Hurricane Wilma. In fact, an 8-mile stretch of Cancun's beach was almost washed away, exposing a line of jagged rocks. Much restoration occurred to bring the sandy shorelines back to normal operations.


The Hotel Zone is Shaped like a 7
The hotel zone is located coastally and has a shape like a seven. If one was to look at it from an aerial view it would look like a large seven.
Inside the seven shape is Nichupte Lagoon. This is a freshwater lagoon which has many water activities for the tourists.
To get to the older Cancun, there are two bridges connecting the hotel zone and inner Cancun city. Less tourism exists in the older parts of Cancun.
So more of the cultural flavor can be observed there. Plaza De Toros, is what Mexico is known for, its bullfights.
Located in downtown Cancun sits a massive old world building which is home to daily bullfights.
Flashy costumes and dancing complement pre show entertainment. Mexican cowboys perform stunts as you wait for the main event of the feud between matador and bull.
On the backside of Plaza De Toros is the restaurant Los Indios.


The Atmosphere is Native Mexico
The atmosphere is native Mexico, and food is inexpensive. If you can take the slaughter, then a bullfight may be your Cancun action.
Traditional Mexican and Cuban restaurants can be accessed as well as shopping. Flea markets and international chains are less expensive tourist fare.
Also downtown is the bullfight arena which puts on daily shows. There is a good variety of local bars and restaurants in the downtown area.
Aside from the beautiful beaches and active nightlife, many tourists travel to Cancun to see and learn firsthand about the ancient Mayan civilization.
The many Mayan ruins are scattered all throughout the Yucatan peninsula. Ruinas del Ray is the closest ruins in Cancun and it is located right in the heart of the hotel zone.
El Ray and El Meco ruins remain standing just outside the city limits of Cancun. A little north of Cancun, in Tulam, there is a more substantial archeological site for exploring the previous life of the Mayans.
There are day trips to the lost city of Uxmal or at Xel-Ha. You should plan to spend time there.
Thousands of Tourists Visit Mayan Ruins and Theme Parks
Xel-Ha and Xcaret are big draws for Cancun visitors. Both incorporate natural reserves, Mayan ruins and theme parks into one package.
Thousands of tourists make these two places high on the must-do list.
These natural parks offer amenities which combine marine life with humans, such as swimming with dolphins.
Both Xel-Ha and Xcaret have preserved the natural diverse ecological environments of the jungles and sandy coastlines.
The popularity of both attractions is because there is so much to see and do within both theme parks.


A Few Secret Places to Visit
Along with its shorelines and seas, it holds a treasure chest of attractions. Some of these are off the beaten path. Cancun is not a place where you will be bored.
A secret place outside of Cancun is Akumal. It is a small native town off highway 307 not well known to tourists.
This little native village is friendly and has preserved unspoiled beaches.
If you are looking for serenity or a private party, these beaches could be the perfect place for you.The restaurants are of sandy floors and surrounded by palm trees.
The real Mexico exists in Akumal since areas around it are becoming developed with tourist attractions and resorts.
There is no pollution and plenty of fishing or swimming. High rocks tower over your head for you to jump into the crystal waters below.
This unhurried environment will lead you to homes of sea turtles and howler monkeys.


Lots of Off the Beaten Path to Visit
The local people sell their goods on the streets. It's a sleepy little place to check out at your own pace.
Another place off the beaten path is a quaint little fishing town called Puerto Morelos. It is a day trip from Cancun, but the trip is well worth it.
Things cost less here than in tourist guided areas. You can bargain for your goods with the vendors or take on a trip through the jungle on an ATV. The fishing here is laid back.
If you enjoy fishing the promise of catches like blowfish and barracudas will make you want to stay and see what you can catch.
The scenery here is breathtaking without all the influx and stampeding of tourists. The day flows lazily on with native cuisine in the small local restaurants.
Relax and become a part of this secret place.


Horseback Riding Abounds
For some people, the perfect moment is captured on horseback wading through the transparent waters of the seaside.
The most incredible experience waits then for those that love horses at Rancho Loma Bonita. Galloping through the ocean on horseback should be on your list of things to do in your life.
If you're like a lot of the women I've known, then horseback riding on the crystal clear waters of the sea coastline could be like a dream come true.
If you're not into horses or horseback riding then there are ATV's available to zoom down the beach line as well as the many dunes in the area.
There are also jungle paths and fields for both horses and ATVs.
After experiencing a ride of a lifetime, they cook for you, providing a feast as an ending to a perfect day. Oh what a life in paradise.


Enjoy Numerous Caribbean Shorelines and Crystal Turquoise Waters
One of the major unpaid attractions of Cancun is the visual attraction of the numerous Caribbean shorelines and crystal turquoise waters.
Although Cancun is famous for white sands, transparent blue waters, and vivid nightlife, there are many other places to explore.
For those seeking less traveled roads, consider searching out the secret places of Cancun.
Cancun will continue to gain popularity as long as Mother Nature remains kind and humans don't spoil the beauty and the environment of the area.
It drives many thousands of tourists to its location each year. If you get the chance to travel there you too will experience its paradise like beauty and experience.
Mexico has experienced a lot of crime the past few years and that surely has dampened the normal enthusiasm people have to visit a wonderful resort town so close to the U.S.
Only time will tell if things will get better and Mexico will regain it's luster as a top American tourist destination.
Copyright © Travellistics.com
About the Author
Charles creates websites, writes articles, and is interested in good luck and sells domain names.