Bargain seekers will find heaven at Marchè aux Puces de Clignancourt in Paris. The most famous flea market in the world sells everything from antiques to junk, from new to vintage clothing.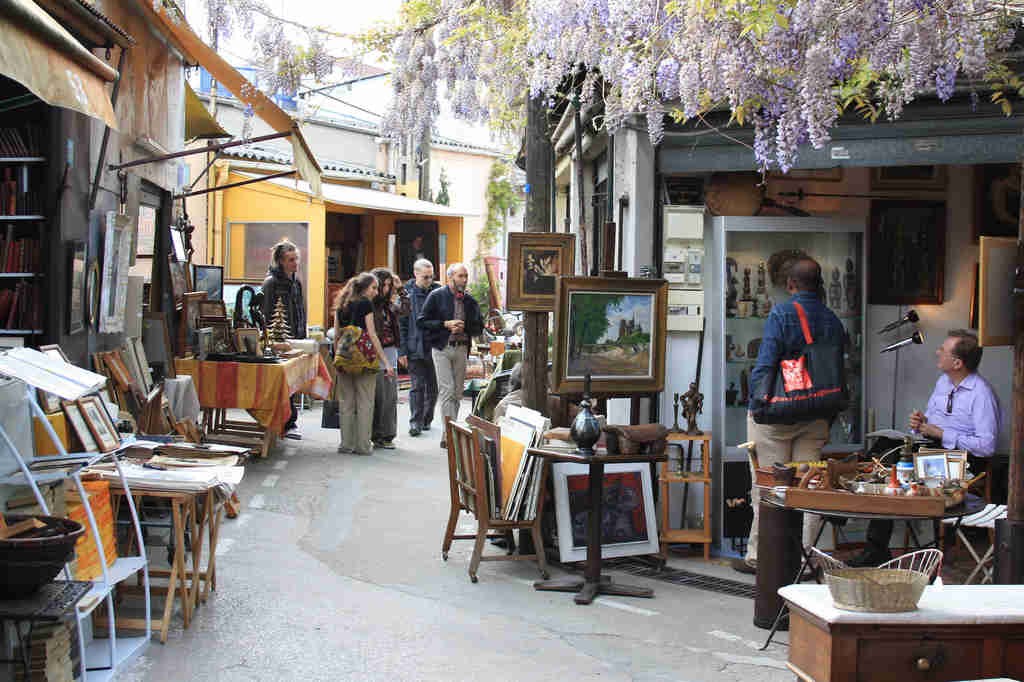 Marche aux Puces de Clignancourt – The Famous Flea Market of Paris
Comprised of almost three thousand open stalls and shops on the northern fringe of the city, the massive complex has been the electrifying hub of cheap thrills for over a century now. Here markets are a treasured tradition and being a vendor is a respected profession. If you happen to be in town for a vacation, you should pass on the opportunity to experience shopping at the world's best flea market.
The journey begins with stalls of bargain clothing beckoning you along avenue de la Porte de Clignancourt. Brace yourself for a long and, at times, confusing walk. As you enter the merchants' lair, various crisscrossing streets will tempt you. Rue des Rosiers is the main street which you will walk down in order to go into the separate markets. The individual markets tend to run into each other, and even those who frequently come here for their annual shopping pilgrimage confess to getting lost in the maze once in a while.
Dress casually and get ready to bring out your awesome bargaining skills. The longer you stay, the more you chat and show your respect for the goods, the more room you will have for negotiating. It might even help to have someone like your partner around who is great at saying in a loud baritone voice that you don't need the antique dining table you are eyeing. If the merchant thinks he might lose the sale, he might panic and give you the deal you want.
This is a Big Flea Market!
Marchè aux Puces covers seven hectares, employs 3,000 traders and welcomes between 120,000 to 180,000 visitors every weekend. It is best to go to the Flea Market in the morning. This is important as it becomes uncomfortably crowded after lunch!! Just like in any flea market tour around the world, watch out for pickpockets and teenage troublemakers while shopping the market. Don't bring your passport. Most vendors accept Visa and Mastercard credit cards. Best to keep your cash and cards in a money belt to avoid tempting thieves.
Vendors start bringing out their offerings around 9:00am Saturday and take them in around 6pm Monday . Opening hours can vary depending on the weather and crowd. While it is true that the entire place is still technically a flea market, the fleas left a long time ago and museum-like boutiques have sprouted all over to offer an intoxicating blend of the sublime and the ridiculous.
Check out Marchè Malassis for 18th- & 19th-century objects, silver items, and Asian pieces. Furniture and ceramics abound at Marchè Dauphine while Marchè Serpette has seemingly infinite pieces of country-style wood furniture. At Marchè Vernaison, find a secret cove of fashion, books, prints and kitchenware. Even the Duke of Westminster has a store at the open-air Marchè Paul where he sells some beautiful 19th and 20th century furniture. And the queen of bargain troops at nowhere else but Marchè Lecuyer – the epicentre of house-clearance specialists. The experience here is totally legendary!
There are several casual restaurants. The local favorite is Chez Louisette, a retro-style lively bistro with bands performing classic French songs. Vivent les puces!