San Diego Family Vacation in Southern California
A San Diego Family Vacation with your kids is a fun place and a great
family vacation destination
. There is the famous San Diego Zoo and Sea World, where you and the kids will have the time of your lives.
Hilton San Diego Resort
Take out your laptop computer and consider booking your stay at the Hilton San Diego Resort, but there are many other places to stay in the city.
Surrounded by the Mission Bay Aquatic Park, this hotel has been touted as the best family vacation resort in San Diego. It's got a private beach, swimming pool, children's pool, and children's activities supervised by hotel staff.
There are also tennis courts, a video-game room, and spa. This is one resort ideal for the entire family. The resort
is three miles from world famous Sea World, as well as the Old Town.
You and your children will enjoy hours of entertainment here and at the San Diego Zoo. The hotel offers such amenities as: air-conditioned rooms and a non-smoking environment. You'll also find hypoallergenic pillows, furnished balconies, and in-room refrigerators. Cribs are available.
Its restaurants include the Bistro overlooking Mission Bay. At the resort you will find American cuisine, poolside dining, and a coffeehouse.
Mission Bay Aquatic Park and more
The Mission Bay Aquatic Park comprises 4600 acres of beaches, coves, and islands along with its private beach. There are spa tubs, a wading pool for the kids, and an outdoor pool area.
Also they have a full service spa, fitness room, and two putting greens. Among the many activities you and your family can enjoy are horseback riding, boating, fishing, and much more.
As you enjoy your leisurely stay at this resort, the kids will be itching to get to Sea World. It is only two miles from the hotel. The San Diego Zoo is only six miles away. Other notable sites such as Balboa Park and downtown San Diego are within the same distance.
There is also a theme park nearby. If you and your family really want an extra treat, there is also whale watching as well. You'll get a real treat if you are able to see a whale in its natural setting.
Purchase a 3-for-1 Pass
Why not purchase a 3-for-1 Pass, which allows unlimited entry to Sea World, San Diego Zoo, and the San Diego Wild Animal Park. This will give you five days to engage in various activities.
These include feeding the giraffes, viewing the other wild animals such as elephants, tigers, and Pandas. There's so much to do and see at all of these attractions.
The San Diego Zoo is good in its own rights. However, it is far better to see the real thing, the animals in the wild in their natural surroundings. For that you should contact Safari Kay and go on a real safari, an African safari.
The most fun of all could be taking the kids to Sea World. Here you will watch dolphins as they soar into the sky. See Shamu give a memorable performance, watch the sea lions perform, and much more. This is a great attraction in Southern California. Those of us who live here have probably been there at least once.
Don't forget if you have an auto club card or other discount card to take advantage of it. Put the savings in your pocket while you enjoy your San Diego stay.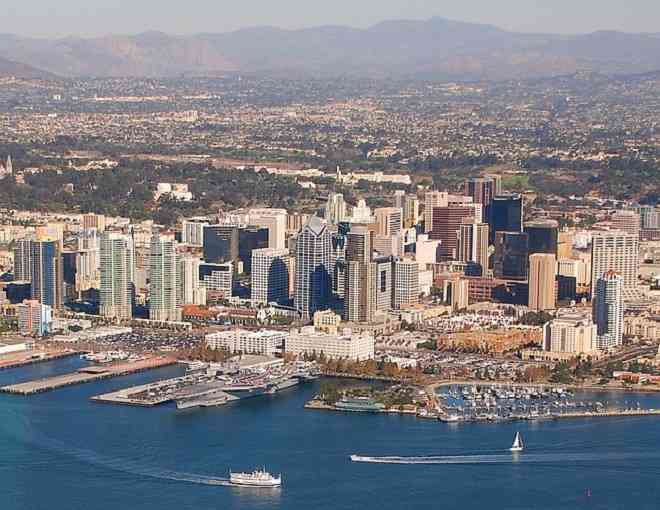 Enjoy Famous Southern California Warm Climate
Let's be frank. If you live in a cold, snowy, winter climate, then San Diego could have you experience that famous Southern California warm climate most winters. The climate is milder than non-coastal areas so it never gets too cold and rarely too hot.
If you enjoy moderate weather, and like the idea of being in a beach city off the Pacific Coast, then you should not miss vacationing in San Diego. San Diego is not only a fun place to visit, but it will bring out the child in you too. Check out the many packages to San Diego and purchase tickets for the two top main attraction centers. You will have a whale of a good time!
A Few San Diego Places to See
Go San Diego Card – This enables free admission and express entry to over 50 attractions, including Sea World, Legoland, San Diego Zoo, Universal, and all Balboa Park museums.
Southern California CityPass – Gives you one day each at SeaWorld San Diego and the San Diego Zoo, another day at Universal Studios Hollywood, and a 3 day park hopper ticket for Disneyland.
Balboa Park – an expansive campus of museums, parks, gardens and arboretums. Neo-classical Spanish architecture, flowering gardens, a beautiful clock tower and intriguing museums are found here.
San Diego Zoo – Located in Balboa Park. Possibly the premier zoo in North America, the San Diego Zoo encompasses over 100 acres of displays and habitats.

San Diego Zoo Safari Park (previously Wild Animal Park)
Sea World. – Sea World San Diego allows visitors a chance to interact with aquatic animals in an exciting way.
La Jolla – An upscale coastal community of San Diego
Point Loma Lighthouse, Cabrillo National Monument
San Diego Maritime Museum
USS Midway Museum – A former aircraft carrier of the US Navy, now open for tours and home to a collection of former naval aircraft housed on its flight deck.
Mission San Diego de Alcala. – Located in Mission Valley Mission San Diego is the oldest of the California missions.
A San Diego side trip
San Diego may be the best city in America for making a quick trip to Mexico. Tijuana, which sits directly across the US – Mexico border, can be reached by public transit.
The San Diego Trolley's Blue Line provides service from downtown San Diego to the border. The trip on the trolley takes about 45 minutes from downtown.
Once you reach the end of the line (San Ysidro), follow the people and signs to the Mexican border crossing. It takes less than five minutes from the trolley stop to the border.
Once across, it is either a 20 minute walk or a five minute cab ride to reach Av. Revolucion, the main tourist shopping street in Tijuana.
If you take a car (not recommended by me), avoid driving hassles and long waits when returning by parking in pay lots near the border and walking across.
This also saves you the added expense of purchasing Mexican insurance on the US side before you drive into Mexico. Be warned: it is illegal to drive your car or a rental car into Mexico without this type of insurance.
Now, however, seriously think twice about driving into Mexico due to all the drug violence. It may not be worth the risk. Once out of the United States you're pretty much on your own.
Copyright © Charles Harmon
About the Author
Charles sells domain names and is delving into retro comics and ads.