7 Italian Cities to Explore plus Food in Milan
By a Southern California quizzard, Charles L Harmon
Italy, with the official name the Italian Republic, is a large country in Southern Europe. It is the most visited country in the world. Together with Greece, it is acknowledged as the birthplace of Western culture. It is also the home of the greatest number of UNESCO World Heritage Sites in the world.
There are so many interesting and historical places in Italy, it is difficult to figure which Italian cities to visit.
Visit Italy and you'll see high art and monuments everywhere throughout the country. The country is also famous worldwide for its delicious cuisine, luxury sports cars and motorcycles, as well as its many beautiful coasts, alpine lakes and mountains, the Alps and Apennines. It is also known for its trendy fashions and diverse regional cultures and dialects.
Out of Italy's hundreds of cities, here are nine of its most famous:
Rome (Roma) — the capital of Italy and, in the past, of the Roman Empire until 285 AD
Bologna — one of the world's great university cities filled with history, culture, technology and food
Florence (Firenze) — the Renaissance city known for its architecture and art that had a major impact throughout the world
Genoa (Genova) — an important medieval maritime republic; its port brings in tourism and trade, along with art and architecture
Milan (Milano) — one of the main fashion cities of the world and also Italy's most important center of trade and business
Naples (Napoli) — one of the oldest cities of the Western world, with a historic city center that is a UNESCO World Heritage Site
Pisa — one the medieval maritime republics; it's home of the Leaning Tower of Pisa
Turin (Torino) — a well-known industrial city, home of FIAT, other automobiles and the aerospace industry.
Venice (Venezia) — one of the most beautiful cities in Italy, known for its history, art, and its world famous canals
Crimes and Tourist Scams
Like most big countries Crimes and Tourist Scams exist. Here are just a very few to be aware of. Violent crime rates in Italy are low compared to most European countries. Just be reasonably careful and use common sense and you shouldn't encounter personal safety risks even in the less affluent neighborhoods of large cities.
However, petty crime can be a problem for travelers if you are careless or don't pay attention. Travelers should note that pickpockets often work in pairs or teams, sometimes in conjunction with street vendors. Just take the usual precautions against pickpockets as you would anywhere else.
A particular scam is when some plainclothes police will approach you asking to look for "drug money" or to see your passport. This is a scam to take your money. You can scare them away by asking for their ID. Guardia di Finanza (the grey uniformed ones) do customs work.
Another scam involves being approached by a man asking you to help break a large bill – usually €20 or €50. Do not give him your money. He is giving you a fake bill, but at first glance it might seem real.
A recent scam involves men approaching you, asking where you are from, and beginning to tie bracelets around your wrists. When they are done they will try to charge you upwards of €20 for each bracelet. If anyone makes any attempt to reach for your hand, retract quickly. Should you get trapped, you can refuse to pay, but this may not be wise if there are not many people around. Carry small bills or just change in your wallet or purse, so if you find yourself cornered to pay for the bracelet, you can convince them that €1 or €2 is all you have.
The best advice to avoid scams is to get away from anyone you have never seen before who starts talking to you.
1. Cinque Terre National Park
Located in the province of La Spezia, Liguria, northern Italy, Cinque Terre is the smallest national park in Italy. It is only 4,300 acres, but is the densest park with 5,000 permanent inhabitants among the five towns.
In addition to the territory of the towns of Cinque Terre (Riomaggiore, Manarola, Corniglia, Vernazza and Monterosso al Mare), the Cinque Terre National Park encompasses parts of the communes of Levanto (Punta Mesco) and La Spezia (Campiglia Sunsets). Cinque Terre was included as a UNESCO World Heritage Site in 1997.
The area is a gorgeous coastal area in the Italian region of Liguria. The area, which means "five lands" in English, dramatically overlooks the Mediterranean Sea, and is even made more beautiful by the surrounding mountainous landscape.
Together with a protected marine area, the region possesses an environment and cultural characteristics worth preserving. Cinque Terre is a tourist destination that draws people from all over the world. Just in the month of August some 3.5- 5 million visitors visit the area.
There is great concern for environmental effects of such large numbers of visitors, but tourism is essential, since farming and fishing have been long replaced by tourism as the area's chief economy. The greatest draw for Cinque Terre tourists are the hiking trails. The collection of five cliff-side towns on the Ligurian Coast are linked by the series of trails.
On the trails one can experience breathtaking scenery among authentic traditional settlements. These actual settlements, the villages, highlight the heritage and culture of these picturesque Italian villages. Click here to read more.
2. 5 Inexpensive Places to Visit in Milan
Milan is the second-most populous city in Italy and the capital of Lombardy. The city itself had a population of 1,353,882, while its urban area is the 5th largest in the EU with an estimated population of about 5,264,000.
It has been suggested that the Milan metropolitan region is part of the so-called Blue Banana, the area of Europe with the highest population and industrial density. Milan sits at the center of Italy's largest urban and metropolitan area.
It is financially the most important city in Italy. Having been greatly destroyed by Second World War bomb raids, the city has rebuilt itself into a thriving cosmopolitan business capital.
Milan is a major world fashion and design capital. Its museums, theaters and landmarks (including the Milan Cathedral, the fifth largest cathedral in the world, and Santa Maria delle Grazie, decorated with Leonardo da Vinci paintings, a UNESCO World Heritage Site) attracts over 6 million annual visitors. The town also features beautiful architecture, many cafes and restaurants, and shops catering to tourists.
For a tourist, what makes Milan an interesting city compared to other places is that the city is more about enjoying worldly pleasures. Milan is a paradise for shopping, opera, nightlife, and football. The city remains the marketplace for Italian fashion – fashion aficionados and supermodels. International paparazzi descend upon the city twice a year for its spring and autumn fairs.
Italy in 2013 had more than 47.7 million tourists. Italy is the 5th highest tourist earner, and fifth most visited country in the world. Same year France with 84.7 million visitors was first, United States with 69.8 million second, Spain with 60.7 million was third while China was fourth with 55.3 million.
Most people visit Italy mainly for its rich art, cuisine, history, fashion and culture. Also they visit because of its beautiful coastline and beaches, its mountains, and so many priceless ancient monuments. Italy also contains more World Heritage Sites than any other country in the world. Click here to read more.
2a. 7 Delicious Foods to Try While Visiting Milan
Things change fast in Milan as quickly as fashion trends. But it still remains one of the strongest cities of traditional Italian cooking. Homemade cooking is still very much praised and appreciated. There are trattorias, enoteche (wine bars) and restaurants everywhere that offer traditional Milanese and Italian dishes to eat. The city's traditional cooking is based on filling dishes like osso buco (braised veal shanks) and risotto alla milanese (chicken-broth risotto made with saffron).
When you're there and visit the different historical monuments the city has to offer you will eventually get hungry. Here are seven delicious foods in Milan that should give you the nourishment and satisfaction you need. Plus you'll get a taste of the real deal, authentic Italian food.
Lunch is generally served between 12:30 and 2:30 pm and dinner from 7:30 to 9:30 pm. Dinner, and occasionally lunch, are usually preceded by the aperitivo—a glass of sparkling wine or a Campari soda in a sophisticated hotel bar. Avoid the restaurants around the Duomo, they are often tourist-only spots, with low quality food at inflated prices. Be aware that most restaurants charge an extra "serving tax" or "table rent." Also avoid restaurants or cafes around the central station, where it has been reported that hidden serving tax can be up to €5 per person with cheap quality food. Click here to read more.
3. Scenic Sorrento Italy
Sorrento is a popular tourist destination in Italy. It is a town and commune in Campania, southern Italy, with some 16,500 people. Sorrento's sea cliffs with their great views and luxury hotels have attracted notable people, including Enrico Caruso and Luciano Pavarotti. The city is famous for the production of limoncello, a digestif made from lemon rinds, alcohol, water and sugar.
Sorrento Italy is truly a playground for tourists. Here, you will find exquisite architecture and a thriving café and restaurant culture. To many travelers, Sorrento makes the ideal base to discovering the Amalfi Coast and the Bay of Naples. It is close to other notable Italian attractions like the infamous Mount Vesuvius, which you can see from the town and the famous Pompeii.
While in the city you can catch a bus that takes you on a spectacular but rather scary ride through the Amalfi Coast. You will pass through villages built along the cliffs that have some of the most beautiful churches and architecture in the area. While you're there you can take a ferry to the Isle of Capri.
If you want to go first class you can hire a private charter boat and take a day trip to Capri and along the Sorrento Coast. There is no shortage of luxury there since you can shop like you are on Rodeo Drive in Beverly Hills. If you just want to take it easy you can take a walk through tree lined walkways to the Nature Park. You could also take a trip to the emerging tourist destination island of Ischia.
Sorrento is accessible from Naples and Capri Island as it is served by ferry services and the Circumvesuviana rail system. Out of all the towns on the Amalfi Coast, Sorrento has the most number of hotels and other accommodation choices.
Hiking the Trails
One of the best ways to discover the scenic marvels over the bays of Naples and Salerno is by hiking along the trails of the peninsula. You can discover the many scenic marvels of this natural balcony over the two bays. The peninsula is surrounded by the Lattari Mountains which hug the Sorrentine coast and the Amalfi coast.
These mountains are rich with plateaus, peninsula, sheer cliffs, and deep gorges. There are many trails in the country side with various lengths and difficulties, so you're sure to find trails to accommodate your skill level. You will find hiking and trekking guidebooks in the local bookshops. There are also expert hiking guides or tour operators that organize guided hikes and bike tours of varying difficulty and costs. Click here to read more.
4. Historical Bologna Italy
The city of Bologna has gained recognition for the dishes that were invented here. But the Italian city in the Parmigiano-Reggiano offers visitors more than the taste of delicious pasta and Bolognese sauce.
Because of its long dramatic history and young population, visitors to Bologna experience a lively youthful vibe amidst old yet exquisite and well-preserved architecture. The dominant structural hues you find in the city are yellows, oranges and terracotta red. This is the main reason why the city earned the nickname "La Rosa" (the red).
Bologna is famous for its cuisine (la cucina Bolognese). People also view it as a progressive and well-administered city. It is considered second only to Venice in beauty by many Italians. The city has one of the largest and best preserved historic centers among all Italian cities.
Its architecture is noted for its range of terracotta reds, burnt oranges, and warm yellows. So the name of Bologna la rossa (Bologna the red) is very fitting. The extensive town center, characterized by miles of attractive covered walkways, known as "porticos," is one of the best-preserved in Europe.
Visiting Bologna is at its best from March/April to October, when it is warm and there is much outdoor sipping and dining. Alternately you could just sit and relax in squares such as Piazza Santo Stefano and Piazza Maggiore. Come July and August, however, it can be very hot and sticky. In August, as is the case in much of Italy in the summer, many shops and restaurants are closed for the summer vacation.
Winter can be cold, but Bologna is beautiful the two weeks before Christmas. January and February often feature cloudless blue skies, but the clear weather is often the coldest: you will need a coat, scarf, hat and gloves.
Little English is spoken by Bologna residents, so take the time to learn a bit of Italian. Learn some common phrases, and it will serve you well. Click here to read more.
5. Messina Sicily
Messina is in the northeast of Sicily, Italy. It is only 5 km across the Straits of Messina to the region of Calabria on the mainland. Founded by Greek colonists in the 8th century BC, Messina was originally called Zancle because of the shape of its natural harbor. The city reached the peak of its splendor in the early 17th century, under Spanish domination. At the time it was one of the ten greatest cities in Europe.
In the past, Messina like now was the main portal to Sicily. Greeks, Romans, Byzantines, Arabs, and Normans landed on its coasts. They had a heavy influence on culture here and throughout the Island. By exploring the small provincial towns, one can discover precious works of art in its churches and palaces, and important traces of great and faraway civilizations.
Messina is known as the door of Sicily. It has always been a trading city. There has been busy thoroughfare between Messina and the Mainland, over the ages. In recent years, there has been talk of constructing a bridge to facilitate and improve communication.
Unfortunately this would be almost impossible to implement due to the fragile nature of the coastline and problems with erosion. The main method of transportation between Sicily and the mainland still remains a system of ferries. That has been the tradition throughout the centuries.
Although it has had a rocky history, Messina is a thriving town with yearly festivals and celebrations of its long history. In the middle of August the Ride of the Giants takes place, with two enormous statues, one black and one white, known as Grifone and Mata are paraded through the city on horseback in celebration of the mythical founder of the city.
Those arriving in Messina by boat can circumnavigate the coasts and enjoy the spectacular hollows and giant boulders, rocks and mounds that surround the islands' shores. The Aeolian Archipelago is a real paradise for trekkers. There are hiking trails that seem to go on forever here. Hikers can experience a journey of landscapes, showcasing the islands' diverse beauty as they trek the island. Click here to read more.
6. Rome Italy: the Eternal City
Rome's history spans more than 2500 years, since its founding in 753 BC. Rome is one of the oldest continuously occupied cities in Europe. It is referred to as "The Eternal City." It is regarded as one of the birthplaces of Western civilization.
Rome's status is that of a global city. In 2011, Rome was the 18th-most-visited city in the world, 3rd most visited in the European Union, and the most popular tourist attraction in Italy. Its historic center is listed by UNESCO as a World Heritage Site. Monuments and museums such as the Vatican Museums and the Colosseum are among the world's most visited tourist destinations. Both of these locations receive millions of tourists every year.
Rome is definitely one of the most important tourist destinations of the world, due to the immensity of its archaeological and artistic treasures, as well as for the charm of its unique traditions. The beauty of its panoramic views, and the majesty of its magnificent parks also help it to be a preferred tourist destination.
Nature reserves and public parks cover a large area in Rome. The city has one of the largest areas of green space among European capitals. Rome is famous for its many fountains, built in all different styles, from Baroque and Neoclassical to Classical and Medieval. The city has had fountains for more than two thousand years which have provided drinking water and decorated the piazzas of Rome since then.
Rome is well known for its statues but, in particular, the talking statues of Rome. Usually these are ancient statues which have become popular soapboxes for political and social discussion, and places for people to voice their opinions. The city of Rome also contains numerous famous bridges which cross the Tiber. According to the Encyclopedia Britannica, the finest ancient bridge remaining in Rome is the Ponte Sant'Angelo, which was completed in 135 AD, and was later decorated with ten statues of the angels. Click here to read more.
7. The Roman Site of Ostia Antica
Close to the modern suburb of Ostia, lies Ostia Antica a large archeological site, that was the location of the harbor city of ancient Rome. It is approximately 30 kilometres (19 miles) to the northeast. With the end of the Roman Empire, Ostia fell slowly into decay, and was finally abandoned in the 9th century due to the repeated invasions and sackings by Arab pirates.
Ostia was Rome's seaport located at the mouth of the River Tiber. But due to silting the site now lies 3 kilometres (2 miles) from the sea. The site is noted for the excellent preservation of its ancient buildings, magnificent frescoes and impressive mosaics. Click here to read more.
2 Italian Attractions to Feel the Spirit of the Locals
1. Do you know about the Carnival of Venice?
Bring yourself back to the 1700s Venetian city of disguise and secrecy through the grandest and most colorful festival in Italy: the Carnevale di Venezia (Carnival of Venice)! you will experience a one-of-a-kind time travel and enjoy a vibrant colorful festival and exciting adventure of being behind a mask.
Masks have played a significant role in human history for various purposes and occasions – arts, theater, literature, politics, socials, and culture. Venice, however, knows best how to celebrate this centuries-old tradition of wearing fancy masks and sophisticated costumes.
A History of Masks in Venice
Beyond this bright and spectacular festival where everyone is elaborately dressed from head to toe in a costume and mask, is a history of masks in Venice. Carnevale has been around since the 15th century when attendees wore masks to private parties with extraordinary entertainment such as inciting a bull.
Back then, wearing a mask also afforded Venetians concealment of mischief, like gambling, love and business deals, and even sneaking into convents of nuns. It was scrapped altogether in 1797 with a decree of prohibiting citizens to wear masks. However, almost 300 years later it has been revived and is now known as one of the world's most famous masquerade festivities.
Carnevale di Venezia – a 12-day Winter Festival
The carnival is celebrated 40 days before Lent. It's the Carnevale di Venezia, a 12-day winter festival. It is best to check the schedule ahead of planning your visit because it sometimes falls in January or February. The Carnevale opens with a beautiful procession called La Festa delle Marie on a Friday afternoon.
At around 4PM the following day, the festival formally begins with a procession around the streets with the starting point at the Piazza de Marco, where most of the main events are held. Here you will find locals wearing their best masquerade attire. It is always complimented by an equally intricate mask. Walk around and take snapshots of your favorite costumes with antiquated Venetian edifices as the background.
Outdoor Events and Carnival Entertainment
There are many outdoor events in store for you during the week. Bask in cultural and carnival entertainment watching street performances in the main squares. There are classic musical and theatrical plays. On weekends you shouldn't miss these in the Gran Teatro at Piazza de Marco.
There is a romantic candlelight water parade after you exit the canals on Shrove Tuesday. The parade consists of gondolas and boats that are lit with frail candlelight. This "Fat Tuesday" is also the perfect time for wild Italian parties you may want to join since everyone is out and ready to dance the night away.
Friday is the high point of the festival. The Gran Ballo del Maschere is usually held in the grand palace. You could join in this momentous party with your perfect costume and mask. Put your dancing shoes on since this is also a night of Venetian quadrilles. That's a square dance for four couples, consisting of five parts or movements, each complete in itself. It's a dance from centuries past.
Enjoy Italian Cuisine, Relaxing, and Ice Skating
Of course, a food trip tasting the goodness of authentic Italian cuisine is a must. After you enjoy a delicious meal, take a relaxing stroll along the side streets of old Venice. Then end the day with a quiet afternoon at St. Mark's Basilica. If you are up for some skating, put your blades on as Campo San Polo opens an ice skating rink.
Don't forget to scour the shops for fine Venetian masks and costumes to use when hanging around the plaza to complete your masquerade adventure. With an early reservation, you may also attend high-end carnival balls. You will never run out of wonderful and exciting things to do at this delightful festival! It is truly one-of-a-kind.
The Carnivale culminates with a majestic finale: Notte de la Taranta (Night of the Tarantula) where a massive fireworks display fills the sky. End the festival with a grand street party. This is one festival guaranteed to bring you wonderful and colorful memories that will last a lifetime.
2. The Palio di Siena
Siena is one of the favorite cities to visit in Italy. Although, it is not as prominent or well-known as Rome or Venice, the city is a model of Italian culture and grace. The city can be found in the beautiful sunny region of Tuscany.
Its atmosphere, charming squares, flower-fringed courtyards, red-brick lanes coupled with red-tiled rooftops, and its vibrant historic center, will make you feel good you're in one of Italy's most perplexing cities. Siena's high stature as an Italian tourist destination is boosted even more during the celebration of the Palio. This is after all the most famous horse race in all of Europe.
The Palio is a Medieval Tradition
The Palio is a well-loved medieval tradition and Siena's grand tribute to its glorious past. This iconic horse race is held every July 2 and August 16. It features 10 out of the total 17 contrada or districts in the city, competing in trial races and in the main horse races.
Who gets to compete for the year's event is chosen through a lottery and rotational system. Know that Siena locals do not take the race lightly. They look at their jockeys as war champions, and they even have the competing horses blessed in their own parish church.
People are Passionate about the Palio
You will notice locals get genuinely upset if their champion did not bring home the glory. During the days leading up to the event, it is common to see individual neighborhoods display their colorful banners and mascots, sing their special anthem and hold vivacious parades. The fighting spirit and passion of Siena's locals will earn nothing but your admiration.
The main venue for the race is the medieval Piazza del Campo. Here, locals and tourists rub shoulders and push against each other all in the name of getting a fantastic view of the horses running wildly around the square. The crowd can easily swell up to 60,000 people, all of them cheering for one horse or another.
Everyone is Hungry for Victory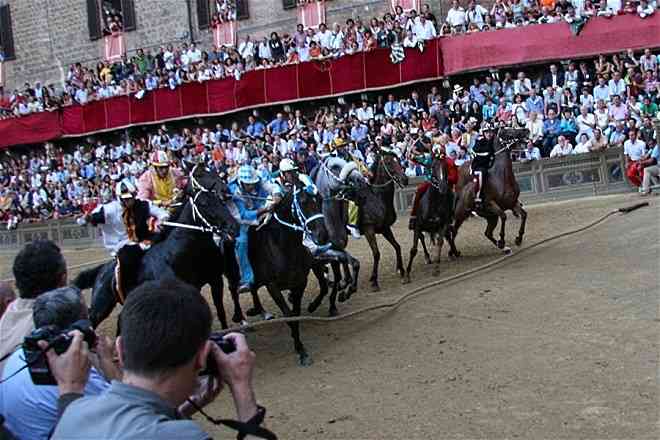 Everyone is hungry for victory. No one is going to stop a horse from winning, even if the rider has fallen off. For this reason, the Palio is truly a distinct, wild and fascinating event. You won't find this kind of passion in horse races in the United States. Not even in the famed Kentucky Derby.
The celebration starts even before the actual race. Representatives of each district wear elaborate medieval costumes and take part in a grand procession. This lavished parade also highlights the district's flag-hurlers who usually show off their flag "exhibition skills".
You can go Early to Witness Pre-race Trials
To get a panoramic views of this splendid procession, consider buying bleacher (palchi) seats. Although the seats are expensive, they make the experience much more memorable. Take a look at the crowds and you'll see why a bleacher seat just might be a good idea.
You don't have to enjoy the Palio only during the race day. Three days before the main event pre-race trials are conducted and are very interesting to witness. If you have chosen to cheer for a certain district, consider attending their outdoor dinner called cena della prova generale, organized on the eve before the Palio.
Book Everything Well in Advance
If you want to experience the madness and marvelous spirit of Palio di Siena, you must book everything in advance. Accommodations, dinner reservations and seat tickets must be arranged six months ahead. There are many tour companies online that offer their services.
If you can, choose to stay within Siena itself instead of the neighboring cities. This can save you a lot of time and hassle as the traffic going into the city is expected to be very heavy.
Italy's Climate and have you visited any of these?
Of these seven Italian cities to explore which ones have you visited? If none, and you visit Italy you must visit at least a couple of them to make your trip complete. Italy's climate is highly diverse, and could be far from the typical Mediterranean climate. Most of Italy has hot, dry summers, with July being the hottest month of the year.
Winters are damp and cold in the North, but milder in the South. On peninsular coastal areas temperatures can be very different from the interior's higher ground and valleys. That's especially true during winter months when higher altitudes tend to be cold, wet, and often snowy. Of course the Alps have a mountain climate, with cool summers and very cold winters.