5 Inexpensive Places to Visit in Milan
By a Southern California quizzard, Charles L Harmon

Milan sits at the center of Italy's largest urban and metropolitan area. It is financially the most important city in Italy.
It's also the second most populous city in the country. Having been greatly destroyed by Second World War bomb raids, the city has rebuilt itself into a thriving cosmopolitan business capital.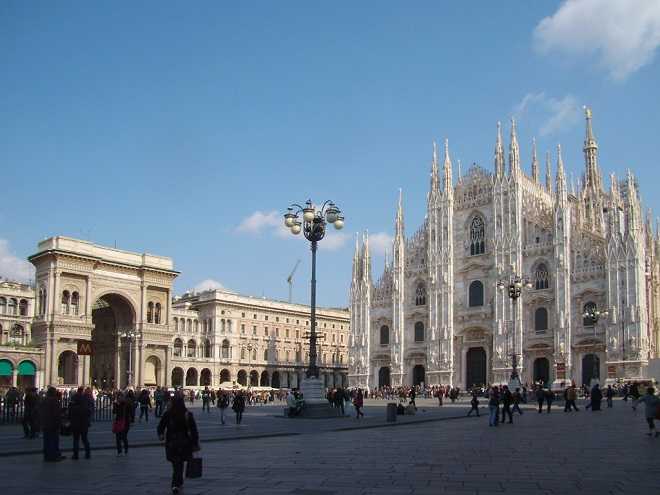 For a tourist, what makes Milan an interesting city compared to other places is that the city is more about enjoying worldly pleasures.
Milan is a paradise for shopping, opera, nightlife, and football. The city remains the marketplace for Italian fashion – fashion aficionados and supermodels.
International paparazzi descend upon the city twice a year for its spring and autumn fairs.
Milan is famous for its wealth of historical and modern sights, some of which is mentioned below.
You'll find a fair share of old and new monuments in this most interesting city. As if it needed one, as a bonus, the city contains one of the world's most famous paintings – Leonardo da Vinci's The Last Supper.
Enjoy an Inexpensive Vacation in Milan
Spending a romantic vacation in Milan with your loved ones will surely give you the experience of a lifetime. People who travel to this place expect to be spending a lot of money if they want to visit all the tourist attractions this city has to offer. You can do that too.
But not everyone can afford a high ticket vacation. However, if you are on a tight budget, you could still enjoy the beautiful places by visiting the 5 inexpensive places in Milan, Italy.
Milan Duomo
This iconic Cathedral is frequently visited by many tourists all over the world. Milan Cathedral is known to be the 5th largest Cathedral in the world and it was dedicated to Santa Maria Nascente (Saint Mary Nascent) and it took nearly six centuries to build.
Every day, there are many tourists who take pictures outside the cathedral to serve as souvenir since this Gothic design is one of a kind. Going inside the cathedral and having a tour in the treasury costs €1 per person, a small price to pay to satisfy a tourist's curiosity. The historical religious monuments that people can see inside the cathedral will take your breath away, especially for those who are fascinated in antic pictures, furniture or paintings.
Sforza Castle
Sforza castle is another wonderful tourist spot that both foreigners and locals can enjoy. Originally constructed in 1358, many famous architects designed and built this iconic castle including the great Leonardo Da Vinci who frescoed several rooms and painted some ceilings with his ingenious designs.
Inside the castle, there are many museums and antic furniture that date as early as the 16th century. However, if you are interested to go inside and have a tour at the different museums, you have to pay €4-5. The outmoded fashion of Milan can be seen on every museum in this castle. If you are into antic collections, all that Sforza Castle has to offer.
Palazzo Reale
Known as the "Royal Palace", Palazzo Reale was built in the 15th century and it is considered to be older than the famous Milan Cathedral.
For many centuries, this palace was used as a fortress and a political base because of how secure it was and how safe the person living in the vicinity can be. The architectural design of the building will deceive many tourists since it looks more modern than the famous Milan Cathedral.
The unique design of the Palazzo captures the eyes of many tourists and locals, especially the detailed carving of its walls. Today, many tourists visit the Royal Palace to visit the different museums and learn about the history of the Milan government. Taking pictures outside the palace is free, however if you want to go inside and see the different historical rooms and monuments, you will have to pay a certain amount of money.
Milan Royal Villa
Built between 1790 – 1796, this Villa stands today as a tourist attraction that many foreigners come to visit whenever they are in Milan.
Many travel agencies make it a point to let their clients visit this historical villa since its architectural design is one of a kind, and taking pictures outside won't cost a single cent.
The gigantic house used to be the house where count Ludovico Luigi Carlo Maria di Barbiano di Belgiojoso, a famous Australian Diplomat and a Lieutenant field marshal, who spent his life serving the government of Milan, lived until he retired.
When he passed away, the government named the iconic villa into Mila Royal Villa or Villa Belgiojoso. Today, the villa is serves as a museum where tourists can take a glimpse of the old Milan, how they lived, and the things they used in the past. Entering the Villa won't cost a person much. If you really want to satisfy yourself, it is advised that you would take a tour inside and see in your own eyes how beautiful the Royal Villa really is.
Leonardo da Vinci's Horse
This monumental statue also known as the "Gran Cavallo" was originally built by the great Leonardo Da Vinci in 1482. However, the original structure was made out of clay and was destroyed by French soldiers when they invaded Milan in 1499.
The structure never reached its full potential. Five centuries later, Da Vinci's original designs were preserved and helped architects and sculptures finish what he started. Today, the statue is one of the most visited monuments whenever tourists visit Milan Italy.
More about Milan
Milan is the most modern of all Italian cities, but it still keeps most of its past history intact. While the city has a lot of parks, Milan looks as if it has very little greenery. The historic part of the city is very well-kept but many other areas are indeed quite scruffy and dirty. Not what you might expect of a tourist town.
But if you think about it, you can say the same thing about so many cities in the United States. They also have their scruffy and dirty parts while showing their best face forward in other parts of the city.
Milan requires quite a lot of exploring and you will have to accept the city as it is. You might not find it very "captivating", but If you spend time, strolling through less well known areas such as the pretty Navigli, the chic Brera district, the lively University quarter, or some of the smaller churches and buildings, you'll find a diverse city filled in every corner with history, and lots of hidden gems.
The Best Times to Visit
Depending on how you want to tour the city, Milan, can be visited virtually all year long. Most places, however, including tourist destinations and museums, are closed on Mondays. In summer, Milan can become extremely hot and humid, with the occasional occurrence of powerful rainstorms here and there.
In July, aside from the hot weather, most shops remain open. In August, however, many locals go off to take their summer holidays. That leaves many businesses and venues closed (with the notice Chiuso per ferie, or shut down for vacation).
The city may become quite empty with the odd tourist strolling around, and with several of the main sights shut down.
But if you don't like crowds, it's a good time to enjoy the city to yourself when it's quiet, and fewer tourists. Despite the fact that many businesses do shut down in August, some do remain open. You will still be able to find some open shops, restaurants and museums.
The rest of the year is fine for visiting. It does get to freezing temperatures in the winter, but unless you're from a warm-the year-round climate it can still be a good time to visit the city.
Copyright © Travellistics.com