Climbing Mt. Kilimanjaro the Tallest Free-standing Mountain in Africa
Are you the type of person that likes excitement? Do you enjoy the challenge of difficult tasks? How about climbing Mt. Kilimanjaro?
Well if you do, but still are conservative in many things there is a challenge in Africa that you will find interesting, exciting, and a one-of-a-kind experience.
---
CLIMBING MOUNT KILIMANJARO
by Erik Conover
Published on Youtube on Jan 31, 2018
Climbing Mount Kilimanjaro! The second video of the Tanzania documentary travel series.
In this video I set off on a 9 day trek to summit Mount Kilimanjaro.

---
That's climbing to the top of a mountain. Not just any mountain, mind you, but the famous Mt. Kilimanjaro.
Some dream of reaching the summit of the largest free standing mountain in the world, Mt. Kilimanjaro, affectionately known in this region as Mt. Kili or 'Kili'.
Whatever you call it, it is one of the most spectacular mountains and mountain treks you can make.
There are many factors which come into play in whether your climb is a summit success or not. Any climb is a success, but if your success is determined by whether you reach the summit or not, here are a few things you should consider. They might add to the possibility of success on your climb.
Mt. Kilimanjaro Facts
Kilimanjaro is the tallest mountain in Africa
It is the highest free-standing Mountain, at 19,340 Ft
It Lies 205 miles south of the equator
Location: Tanzania's northern border with Kenya
It supports 5 major eco-zones
Eco-zones: rainforest, heath, moorland, alpine desert, and glaciers
Around 15,000 – 25,000 people attempt to reach the summit each year
Who can climb Mt. Kilimanjaro?
Factors such as being physically fit and mentally prepared are prime considerations, along with the proper equipment. Even the fittest climbers may not reach the summit, few do. But if you do not prepare yourself, it's for certain you will not.
---
CLIMBING MOUNT KILIMANJARO | The Summit
by Erik Conover
Published on Youtube on Feb 4, 2018
Climbing Mount Kilimanjaro! The FINAL video of the Tanzania documentary travel series. In this video I climb through bitter temperatures, blizzards and frost bite to Uhuru Peak, the Summit of Mount Kilimanjaro

---
Preparing for the challenge long before leaving home is essential. Once in Tanzania, it is important to spend a couple of nights if not more, getting acclimated to the weather, the altitude and the region. This of course will add to your success.
Some statistics say about 40% of those who climb actually reach the summit. The three easiest routes, Marangu, Rongai and Machame can be climbed by a person in good health. They require no mountain climbing experience.
Many who climb employ altitude-sickness medication. They find this to be helpful in preventing the pounding headaches that many travelers experience on their climbs.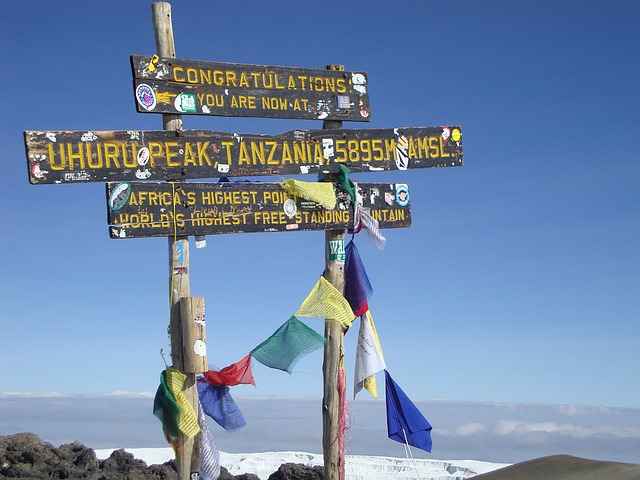 Bragging rights
Kilimanjaro is known as the roof of Africa, so it's a pretty cool thing to come back and tell your friends where you went and what you did on
your vacation. Conquering this mountain is not for the faint of heart.
A medical exam is a must
An informed decision about the dangers, the challenges and the environment must be considered. A medical exam and clearance is a must. You cannot just fly to Tanzania and think you will climb this mountain.
You must climb with an organized group. There are many reputable companies which specialize and are registered for such climbs. Some are registered for just this region, others to mountain climbing in other areas as well. Do your research. Learn of their experience and how they are rated.
Consider routes and challenges
There are several routes to be considered, each with its own particular challenges. Study them and know which is right for you, discuss it with the tour company. Ask questions!
Will you want a private climb or a larger group climb? Private climbs are, of course more expensive. There is always a staff from the company who will accompany you on the climb.
That's whether private or with a group. Among these, you might have a cook, a guide, and a Head guide.
What you will experience
Due to Mt. Kilimanjaro's equatorial location as well as its high elevation, climbers can experience almost every climate type on earth during the climb to the top.
It is also known to many for its year round snow-topped summit.
The summit of Kilimanjaro is covered by a GSM mobile phone network. It is the highest point in Africa with such service.
However, it is no longer the highest point in the world with mobile phone service.
China now provides similar coverage at the top of Mt. Everest, which is the highest point in the world.
Kilimanjaro is dangerous, make no mistake about it and it is seriously high. An experienced mountain trek company will give you all of this information. Listen to it.
Don't just assume you can do it because you are physically fit. Know the risks you might face.
Plan your trip in advance
Book well in advance and ask questions about equipment, what do you have, what do you need? Remember, what you have for one mountain climb may not be suitable for another. Check the weather, the good times and the bad times.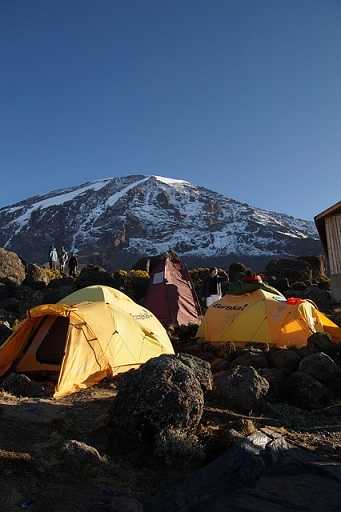 Confirm this with your tour operator. Consider the high altitude, have you been confronted with this. How to overcome the high altitude is an extremely delicate matter which can make the difference between life and death.
It cannot be understated; an over enthusiastic trekking company can put you in a lot of danger. So do your own research to make sure you know what you're getting into.
Remember, being fit is not a sure sign you can make it to the summit, nor of success.
Be prepared to pay from $1,000 to 4,000 depending on many factors. Be sure to ask for a detailed list of what is included. Once you decide that the challenge is worth the suffering, oops, I mean the once-in-a-lifetime experience, go for it.
I hope you are one of the successful persons to reach the summit. Not only will you reach the roof of Africa, but it will be a life altering experience. Good Luck!
Copyright © Kay L Trotman
About the Author
Kay's favorite interest is traveling on safaris. She can be reached from the Contact form at her travel website.
Click here to read about another potential mountain climbing adventure. (On our sister site)