Puerto Rico Travel Destination: A Great Caribbean Island
You want to travel, but you don't want to get too far from the USA so what's a good place relatively close to visit? Totally off the continental United States is the island of Puerto Rico. This Puerto Rico Travel Destination is just waiting for your upcoming visit.
Although most Caribbean destinations are limited to sun and sand, Puerto Rico Travel Destination is different. The island offers a variety of locations.
Places where you can stay depending on the type of vacation you are looking for. Check with your travel agent for more information and travel tips.
For example, Puerto Rico has hotels available in every corner of this island, including Condado Beach, Isla Verde, and Old San Juan.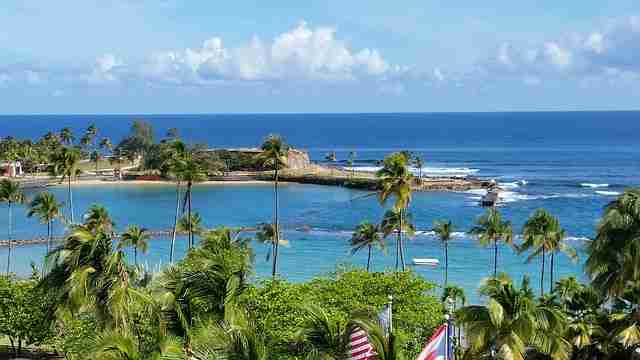 Lots of Hotels for Your Personal Needs
Each area has its own uniqueness and depending on your preference, you can choose from the most deluxe accommodations to budget hotels; from villas to Bed & Baths; from hotels within a short distance from the airport, to hotels 90 miles away.
You can select among the finest hotels such as the top rated El San Juan Hotel and Casino in Isla Verde, to the most charming Hotel El Convento in Old San Juan.
You may have to do a bit of research to find the place most suited to your taste as there is an abundance of choices available.
Old San Juan has more restaurants and designer stores than anywhere else on the island. Moreover, the nightlife in San Juan is equal to none. In fact, at the El San Juan Hotel the Club Brava has been touted as the hottest club around.
Whether you are in search of antiques, local crafts, leather, jewelry, or their famous Rum; San Juan has it all. Keep in mind, however, that all items purchases here are not duty-free.
One of the largest malls in Puerto Rico is the Plaza Las Americas which has over 300 stores, over 40 restaurants, and more.
For your dining pleasure, you can opt to visit the various restaurants in San Juan that offer international cuisine. Their fish dishes are especially delectable!
For the adventurer in you, take a trip to El Yunque National Rainforest, the most popular attraction in Puerto Rico. You may also wish to visit the home of Ponce de Leon at La Casa Blanca, which is now a museum in Old San Juan. Another historic site is the Castillo de San Cristobal which is also located in Old San Juan.
Puerto Rico has a Diverse Culture and History
Puerto Rico is an island that can satisfy even the most seasoned traveler. Its diverse culture, history, and exceptional properties offer you the opportunity to enjoy a short or prolonged
vacation
. It is close by the U.S., and
Puerto Rico
Travel Destination that is very affordable.
As you research this most popular travel destination, you will find there is something for everyone: Great weather, fabulous entertainment, and shopping galore. You can enjoy world-class cuisine, and the largest casinos anywhere in the Caribbean.
Puerto Rican Cuisine
One pot dishes, or stews, are common to Puerto Rican cuisine. These are often made of meats, and flavored with a variety of spices and ingredients in addition to adobo and sofrito.
Among these are Spanish olives stuffed with pimiento, sweet chili peppers, capers, potatoes, onions, garlic, fresh cilantro, and occasionally raisins.
Chicken with rice is a dish that has become a Puerto Rican specialty, with many families having their own special style, handed down from generation to generation.
Naturally, seafood is an important part of the island cuisine. Fried fish is often served with a special sauce made of olives, olive oil, onions, pimientos, capers, tomato sauce, vinegar, garlic and bay leaves.
Broiled, steamed or grilled fish is lightly seasoned, if at all, during the cooking process and served with a splash of lime juice with perhaps just a hint of garlic.
Puerto Rican cuisine has many facets, arising from the island's long, complex history. The blend of native culinary traditions with those of the European settlers and the enslaved African populations that they brought with them has resulted in a unique and flavorful cuisine that is beloved by many.
Puerto Rico Beaches
If your ideal vacation involves pristine beaches, exciting outdoor activities and a flavorful nightlife, Puerto Rico may be the perfect travel destination for you. If you are a United States citizen, you don't need to get a passport to visit Puerto Rico. This island paradise is a United States territory and you can come and go as you wish.
For those who dream about beach-vacations, Puerto Rico has some of the best beaches you'll find anywhere. Powder-white sand, palm trees, plus crystal clear water make Puerto Rican beaches the perfect place to get a tan or just to recline and enjoy the warming rays of the sun.

No one in their right mind would consider a bombing range as a top 10 beach, right? Wrong! Vieques is a 21 mile by 4 mile island situated off the main island of Puerto Rico and it used to be a bombing range for the United States Navy.
It was turned over to Puerto Rican officials in 2003 and it is now a protected nature reserve. Now the islet is a wonder of beautiful beaches, forests full of tropical birds and wild horses.
Another popular beach on the island is Isla Verde. It is just a short cab ride from the San Juan airport and it has a string of hotels and resorts lined along its beautiful white-sand beach. It gives you access to the laid-back lifestyle of the beach and easy access to Old San Juan.
You are just a short trip to the dining, shopping and dancing that make up the culture of Old San Juan.
If you have more time or want more to see there is the U.S. Virgin Islands just a short flight away. There are the islands of St. Thomas and St. Croix beckoning your call plus the small St. John Island.

About the Author
Charles Harmon sells domains and creates websites on the side.
Related Blogs