Bora Bora: Vacation in a Beautiful Island Paradise
Presented by Twinty Karat
Are you the type person who dreams of a vacation lying around on a tropical beach? How about lazily watching the waves crash upon shore and dolphins dance across the tops of low ocean waves.
Do this all the while sipping a tropical drink. Such a dream vacation allows the tensions of your normal life on the mainland to seep away, far away.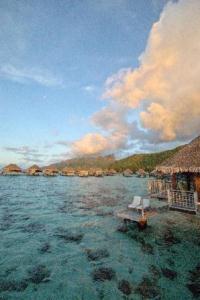 If this fits you, then Bora Bora is a perfect destination for your dream vacation. Located in French Polynesia in the South Pacific, this island paradise was once part of a US military strategy in WWII. But later it proved to be a beaconing call to its soldiers and sailors enticing them to stay.
Many men stayed behind to enjoy the island's unique beauty and features, returning only when their angry family's came to drag them home. Some never left at all, making their home among the islanders. Theyleft the bloody and tragic aftermath of the war to start a new, simpler lifestyle. The military left there in 1946.
Today, Bora Bora (actually locally called Pora Pora) derives its living primarily from tourists. Tourists are given the opportunity to sample the native cuisine. They can expand their horizons with many of the native products and clothing. People can learn a new language and culture and see a side of life much like their own while still being very different.
Tourists are given a rare glimpse into a way of living that most would never have dreamed about. It is an outlook on life that cannot be found anywhere else in the world.
The main attraction in Bora Bora, however, are its beaches. You have the opportunity to realize your dreams of lying on white sand. Watch the gulls fly above while sipping tropical drinks and having dreams of never going home.
You can collect shells to show to your neighbors back home and go out on boats and take pictures of the scarce wildlife. That will prove you really did spend your vacation in such a famous paradise in those South Pacific islands.
Visiting Bora Bora you'll have the opportunity to make the kind of memories that will last a lifetime. It is about 160 miles from Tahiti where you'll want to visit too. These are part of a chain of islands known as the Society Islands. You will bring back memories to share with your children (if they don't go with you) and friends.
Many have said Bora Bora is the most beautiful island in the world. That's a point that can be argued. It, however, is certainly right up there in the top few beautiful islands. Most who have been there will agree. Consider adding this beautiful French Polynesian Island to your list of top vacation destinations.
Copyright © Travellistics.com

Read More