Going to Africa? Victoria Falls is a must see Attraction
Want to see many of Africa's animals and birds? Many can be seen in the immediate vicinity of Victoria Falls.
Africa's range of river fish is well represented in the Zambezi. There is wildlife viewing and sport fishing plus lots of sightseeing.
Victoria Falls is, by some measures, the largest waterfall in the world.
Tourism
Almost 300,000 people visited the falls annually by the end of the 1990s. This was expected to rise to over a million in the first decade of the 2000's. Unlike game parks, Victoria Falls has more Zimbabwean and Zambian visitors than international tourists. That's because it is more accessible by bus and train and therefore comparatively inexpensive to reach.
Victoria Falls is one of Africa's major tourist attractions, and is a UNESCO World Heritage Site. The falls are shared between the countries of Zambia and Zimbabwe. Each country has a national park to protect them and a town serving as a tourism center.
In Zambia: Mosi-oa-Tunya National Park and Livingstone, and Victoria Falls National Park and the town of Victoria Falls in Zimbabwe.
The two countries permit tourists to make day trips from one side to the other without the necessity of obtaining a visa in advance. However visas issued at the border are expensive, particularly upon entering Zimbabwe.
Tourists visiting Zimbabwe started declining in the early 2000's as political tensions increased. In 2006, hotel occupancy on the Zimbabwean side hovered at around 30%, while the Zambian side was at near-capacity, with rates reaching over US$600 per night.
This rapid development has prompted the United Nations to consider revoking the Falls' status as a World Heritage Site.
The Parks and Wildlife
The national parks of the two Victoria Falls neighboring countries contain abundant wildlife. They include sizable populations of elephant, buffalo, giraffe, zebra, and a variety of antelope. Lions and leopards are only occasionally seen. Vervet monkeys and baboons are common.
You can see large populations of hippopotamus and crocodile in the river above the falls. See elephants crossing the river in the dry season at particular crossing points.
Klipspringers and clawless otters can be glimpsed in the gorges, but the gorges are mainly known for its 35 species of raptors.
The Taita Falcon, Black Eagle, Peregrine Falcon and Augur Buzzard breed there. Above Victoria Falls, herons, Fish Eagles and numerous kinds of waterfowl are common.
Fish
The river is home to some 39 species of fish below the falls and 89 species above it. This illustrates the effectiveness of the falls as a dividing barrier between the upper and lower Zambezi River.
The famous Dr. Livingstone may have been the first to discover the amazing beauty of Victoria Falls, but it is something which you too can enjoy.
There are several travel companies that have a number of tour packages to offer you an unforgettable safari vacation. You can also participate in a custom safari or tour of the Victoria Falls area.
Vegetation
Mopane woodland Savannah predominates in the area. Riverine forest with palm trees lines the banks and islands above the falls. However, the most notable aspect of the area's vegetation is the rain forest. It is nurtured by the spray from the falls.
The forest contains plants rare for the area such as pod mahogany, ebony. Also you will see ivory palm, wild date palm and a number of creepers and lianas.
Depending on the climate when you go to Victoria Falls, you might notice the lack of vegetation or the color of the vegetation. Vegetation has suffered in recent droughts. So along with the drout animals that depend on it, particularly antelope, have suffered. Unless we live near such areas we never think so much of the effects of nature in such beautiful and scenic places.
Tour and Safari packages
Designed to accommodate all personal tastes and budgets, you can choose ready-made tour packages for Victoria Falls. Special personalized packages can be also be arranged for you should you desire that.
Currently the shorter time period packages range from $595- $695 per person sharing hotel accommodations. Longer tour packages cost about $1695. Check these prices, however, before you make your plans to be sure of the exact cost.
If you like camping, you can enjoy a canoe safari, located on the Zambezi River. This is a great way to get in touch with the outdoors. You sleep in tents and your meals are prepared by your tour guide.
On this trip you are an active participant, assisting in preparing the campsites and on clean-up details. The canoe safaris range from the most basic to deluxe ten-day tours. In addition to camping and canoeing, the canoe safari is excellent for fishing and photography.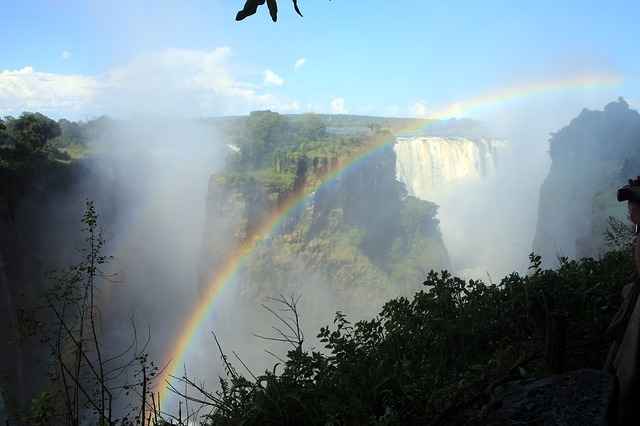 The ultimate Victoria Falls adventure can be found in Zambezi whitewater rafting. There are several trip packages available from slightly over $100 per person, one day. Others to slightly over $500 for a five-day expedition. Other packages can be specially arranged.
Considered to be the best whitewater rafting in the world, it is also the most dangerous. It is important for those who choose this exciting activity to be in relatively good health.
Less-dangerous Adventures are Available
For adventures of a less-dangerous nature, Victoria Falls has many other options to consider. These activities may be combined for a custom-designed tour. One delightful excursion is the African Lion Encounter.
At only about $100 per person for a morning or an afternoon encounter, you can have a once-in-a-lifetime experience. You will personally interact with lion cubs on the Masuwe Estate.
This is carefully supervised by trained personnel for the safety of both the lions and guests. Only guests who are over sixteen years of age are allowed to participate in the lion encounter.
You may also be interested in an Elephant Back Safari. There you will have the opportunity to interact with these animals. You will ride them through areas where you can view other wildlife.
There are zebra, buffalo, crocodile, and a wide range of bird species. With this type of hands-on approach to the elephants, you will learn much about their intelligence and means of interacting.
Victoria Falls Game Drives take place at the Mosi-oa-Tunya National Park. It is home to white rhino, wildebeest, zebra, antelope, buffalo and giraffe.
Each 2 1/2-hour game drive is supervised by experienced guides, and is available year-round for about $50 per person.

Victoria Falls – an exciting vacation spot
Victoria Falls has much more to offer than its wildlife. If you seek adventure, other activities include bungee jumps, river boarding, and micro-light flights. There are also helicopter rides, kayaking, and tours of the area's museums, markets, and cultural village.
When considering your trip to Victoria Falls, keep the seasons in mind. The presence and activities of wildlife is essentially consistent, but April is usually the optimum time for viewing the Falls themselves.
April is also the best time for bird watching since you will arrive prior to the birds' northbound migration.
You can view and interact with endangered and protected wildlife at the falls. Plus you can participate in a wide assortment of challenging activities such as safaris and several day tours. Victoria Falls makes a wonderful must see vacation stopping point.
You will have the opportunity to photograph one of the most beautiful natural wonders of the world. Victoria Falls offers you a most memorable trip, one you will never forget.
Copyright © Travellistics.com