Tahiti: Small Place Nice Attractions
When I grew up, which was quite some time ago, one of the most frequent places one heard about traveling to exotic places was Tahiti.
I haven't heard so much about it since my childhood days, but it still is one of the most beautiful and faraway places to visit.
While most would agree that simply being in Tahiti is plenty of attraction, there are some specific attractions in Tahiti you do not want to miss.
They are well worth checking out since you are there. Following, in no particular order after the first attraction listed here, are the best attractions in Tahiti.

Tahiti Facts
Background: France annexed various Polynesian islands, including Tahiti in the 19th century.
Location: Oceania, archipelagos in the South Pacific Ocean
Reference location: about one-half way from South America to Australia
Area: total: 4,167 sq km (118 islands and atolls) land: 3,660 sq km water: 507 sq km
Area – comparative: slightly less than one-third the size of Connecticut
Climate: tropical, but moderate
Terrain: mixture of rugged high islands and low islands with reefs
Natural resources: timber, fish, cobalt, hydro-power
Nationality: noun: French Polynesian(s), adjective: French Polynesian
Ethnic groups: Polynesian 78%, Chinese 12%, local French 6%, metropolitan French 4%
Population: 278,963 (July 2007 est.)
Languages: French 61.1% (official), Polynesian 31.4% (official), other 7.5%
Dependency status: overseas lands of France; overseas territory of France from 1946-2004
Capital: name: Papeete
Independence: none (overseas lands of France)
Currency code: XPF 1 USD = 86.8231 XPF (using xe.com on July 10, 2007)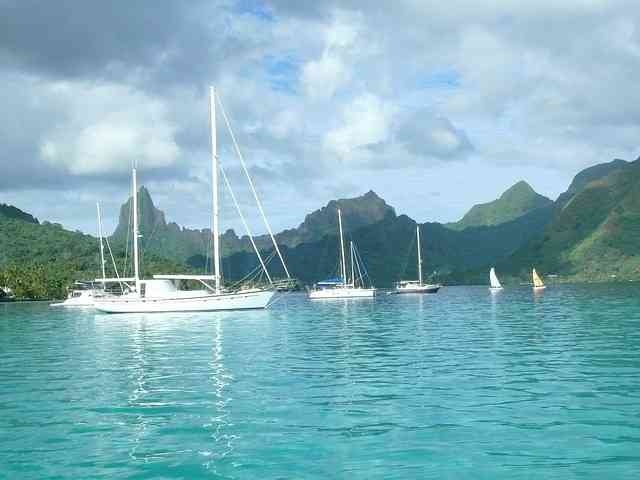 Musee Gauguin (Gauguin Museum)
Far and away the one attraction you do not want to miss while in Tahiti is the Gauguin Museum. This museum or memorial to the French artist who made his home in Tahiti from 1891 to 1893 is worth the visit for sure.
The museum owns some of his creative works, including wood carvings, engravings, a ceramic vase he crafted, and a few of his sculptures. Additionally, the museum is privy to borrowing some of his other creative works from other museums, particularly from France. Be sure to check ahead if you are a Gauguin enthusiast and you would like to plan your trip to Tahiti around what may be on loan to the museum while you are there.
Otherwise the exhibits at the museum are dedicated to his life while living in Tahiti. The last gallery exhibition shows who owns his works today. Furthermore, the museum also has a restaurant nestled next to a lagoon, but you may want to eat at the nearby Restaurant du Musee Gauguin.
Harrison W. Smith Botanical Gardens
Next to the museum is the Harrison W. Smith Jardin Botanique, or Botanical Gardens. Harrison Smith was a professor at the prestigious Massachusetts Institute of Technology. He chose to leave his career at the Institute teaching physics to students and move to Tahiti. He started the Botanical Gardens in 1919. He lived out the rest of his life in Tahiti, dying in 1947. The beautiful, lush Botanical Gardens which he started belong to the public-at-large. Growing in the garden are tropical plants from all around the world.
Lagoonarium de Tahiti
Here is a small attraction that offers nice viewing. If you aren't diving or snorkeling in the lagoons, then here is a different view of the lagoons. You will enjoy visiting to this underwater viewing room. It is surrounded by pens containing sea turtles, reef sharks, and many different colorful species of tropical fish. This attraction is part of the Captain Bligh Restaurant and Bar. The cost of this attraction is very low so don't miss it, and the view of Moorea from here is excellent.
Point Venus
Point Venus was named so because the infamous Captain James Cook observed the transit of the planet Venus across the sun in 1769 at Point Venus. He traveled to the northernmost point on Tahiti to do so, and thus naming it Point Venus. What's more, on this northernmost point is the velvety black sand beach, the result of one of the now inactive volcanoes which are the island Tahiti. Bring a picnic basket and your camera. This point in the world is very scenic, including the white lighthouse which was built in 1868. If you do not want to pack a picnic there is a snack bar there, as well as restroom facilities.
Arahurahu Temple
Maybe you're into ancient temples. Arahurahu is the only temple in all of Polynesia that has been fully restored. Get a load of the stone pens just at the entrance of the temple that were used to pen the pigs the ancient people of Tahiti used to sacrifice to their gods. The temple is used for reenactments of old Polynesian ceremonies during the month of July.
Marche Municipal (Municipal Market)
Here you will find a huge variety of fruits and vegetables. There are plenty of fish, meat, handicrafts and other items available in this busy public market. There seems to be some unwritten rules on who sell what and their jobs. The goods under the big tin pavilion of Papeete's busy public market dictate that Tahitians sell traditional vegetables and fruits. The Chinese sell European and Chinese vegetables. The butchers are Chinese and European as well as are the bakers.
All the action usually occurs early in the am between 5 and 7 am. On Sunday it's almost like a carnival when people from the other islands and outlying areas all come here to sell their produce. You can have an inexpensive lunch at the snack bar and listen to a Tahitian band. This attraction is free so try not to miss this, but you must come early if you want to buy anything as all the best goodies are usually gone by 8 am.
Museum of Tahiti and Her Islands
How about some coconuts? One of the best museums in the South Pacific is set in a lagoon side coconut grove. There is a gorgeous view or Moorea. On display in the museum is the geological history of the islands. There is a nice topographic map depicting the flora and fauna, the sea life in the area, and the culture and history of the islands inhabitants.
There are exhibits devoted to the traditional weaving, tapa-cloth making, early tools and body ornaments. Other exhibits include tattooing, horticultural techniques, games and sports, and fishing.
There are many other exhibits you'll see. Many of the exhibits are translated into English so you'll have no trouble understanding them.
La Maison de James Norman Hall (James Norman Hall Home)
James Norman Hall was a U.S. army pilot in France during World War I. He was shot down and after the war he and Charles Nordhoff whom he met in, wrote "The Lafayette Flying Corp". It was about the American unit that fought for before the U.S. entered the war. The two moved to Tahiti where they wrote other works.
The museum is a replica of James' house. Hall and Nordhoff penned the "Mutiny on the Bounty" and a few others books. At least two of their writings were turned into movies, including the famous Mutiny on The Bounty, once with Clark Gable and Charles Laughton, and later in a 1962 remake with Marlon Brandon.
Hall's family manages the house and has furnished it with original manuscripts, Hall's typewriter, heirlooms and memorabilia. There are also photos of other writers when they dropped by. There is a thirty minute tour of the museum and you can buy coffee and drinks.
So when you do visit the islands and enjoy the beautiful South Pacific sights in Tahiti be sure to visit some or all of these places to make your trip complete.
About the Author
Charles has a personal blog. Charles manages a PLR Reviewer website.
Copyright © Travellistics.com