Ten Florida Beach House Rental Tips
By
Charles L Harmon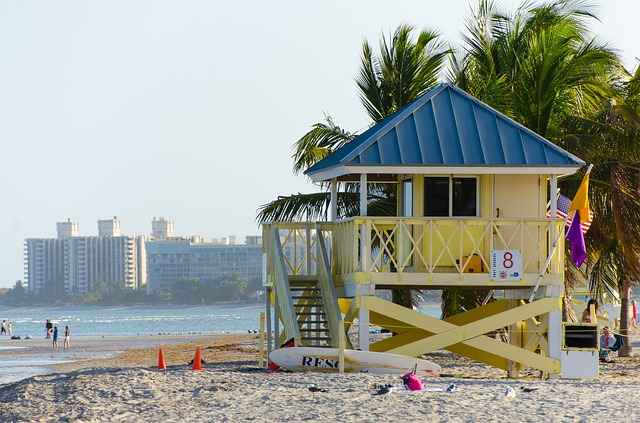 It's easy to understand why Florida is one of the most popular vacation destinations in the United States. The sun shines over 300 days each year and the weather is almost perfect the whole year round. If you own a Florida beach house you have a home many people would love to have.
Sometimes, however, temperatures have been known to drop into the low 30s during winter months, but it's rare and doesn't really detract from so many nice warm days year round.
Florida is officially known as the "Sunshine State."  Florida boasts over 600 miles of beaches and well over 10,000 miles of streams, waterways, and rivers. According to "Visit Florida Research," more than 80 million tourists visited Florida in 2006.
Of those tourists, 17 million visited during the months of October through December, which is considered the peak season.
Here are some tips handy to know if you are considering a Florida beach house rental. Most may save you money, while others are good to know or may make things easier for you.
What's a beach?
When looking for a Florida beach house rental you need to know the term "beach" means different things in different locations. For instance, Florida beaches can be on bays rather than oceans. It's important to clarify exactly where the property is located when responding to ads that use terms such as "ocean view", "steps to the beach", or "beach accessibility".
Understand these terms and obtain clarity before you accept any Florida beach house rental agreement. Google Earth is a great resource to obtain satellite views of your potential Florida beach house rental locations. Not only Google, but there are several other Internet sites that provide satellite views.
At least three free websites that I know of offer satellite views down to the specific property. This can be a great help if you are looking for that secluded Florida beach house rental or one that's not jammed up right next to a bunch of other houses.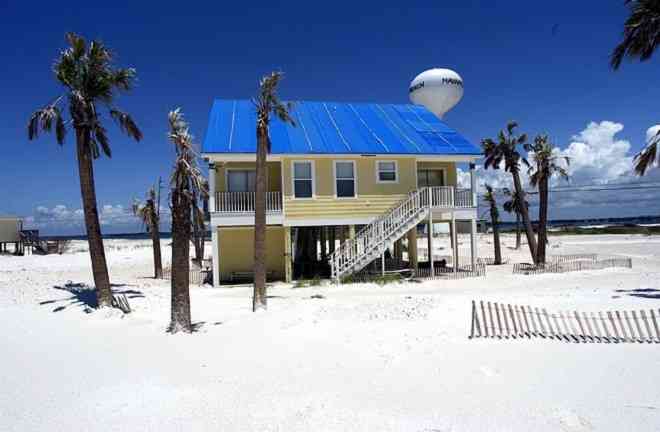 Rent during off-season
One of the easiest ways to save money when renting a beach house in Florida is to rent during the off-season. Florida's off-season falls between May and October, while the peak season falls between November and April.
Although temperatures can reach over 100 degrees Fahrenheit during the summer months, gentle ocean breezes and close proximity to the water can help you stay cool. If you can stand the heat and humidity, you can save yourself a noticeable amount of money that you can use for other things buy renting that Florida beach house rental in the off-season.
Share the expenses with friends
Vacation with friends and share the expenses. Many Florida beach house rentals accommodate up to 10 or more people. These larger homes often provide extra amenities such as swimming pools, Jacuzzis, spas, golf courses, and community clubhouses.
While you might not be able to afford to rent a $9,000 or $10,000 beach house on your own, if nine more of your buddies or friends join in, you could be living the lifestyle of a celebrity for only $1,000 a week or less.
Florida beach house rentals during the off-season could save you up to 50 percent of the in-season price.
Rent from a private individual
When you rent directly from the beach house owner, you have a better opportunity to negotiate than if you work with a property management organization. So it is usually to your advantage to rent from a private individual.
Property management organizations often are unfamiliar with the property and unable to answer questions about the property location or condition.
You'll want to verify references, conduct research on the area of the rental home, and use additional precautions to insure you aren't being scammed. However, if you use common sense and trust your instincts, chances are good that you will have a rewarding experience with your Florida beach house rental.
Home Exchange plan
Exchange your home for a Florida beach house rental. Home Exchanges are quickly becoming a popular option for people who love to travel. How it works is you allow an individual or family to stay in your home while you stay in their home.
There is no cost involved, making home exchange a win-win situation.
There are many reputable home exchange companies available via the Internet. Make certain you thoroughly research the company and understand their policies before committing to using their service.
Find a rental in a small city or town
Rent in small cities or towns. Some of the best Florida beach house rental deals can be found in less populated areas. An added bonus is the beaches are less crowded and you can have more peace and quiet.
There are numerous small towns within 10 or 20 miles from major metropolitan cities. Even with higher gas prices, the money you save by renting a Florida beach house in a small city or town will more than compensate for the extra driving.
Is the house for you?
Plan on spending time talking with the owner and ask a lot of questions when renting a beach house from a private individual. Be sure to get a list of references. References alone won't help – you need to contact them.
Find out if smoking is allowed. If you are a smoker, find out if indoor smoking is allowed, as some property owners will retain your security deposit if you smoke inside. Since you are paying a premium for your Florida beach house rental you want to make sure it's exactly what you want or as close as possible.
If you are a non-smoker, obtain a guarantee that the house is smoke-free. Many non-smokers have allergies to cigar and cigarette smoke. You don't want to rent a house that has allowed indoor smoking.
The same holds true for pets. Do they allow pets? If you are allergic to animals, make certain that no animals have been allowed in the rental home.
Invest in travel insurance
We all know the best plans of men… things can go wrong when vacation time rolls around. Even the most carefully laid out plans can be interrupted by unexpected illness, travel delay, emergency evacuation, or lost luggage, or many other unforeseen problems.
Travel or trip insurance policies are designed for travelers going on a single trip. They can be used for cruises, tours, flights, house rentals, medical emergencies and more.
Although an extra cost, this type of insurance can easily pay for itself if things go really wrong or the unexpected happens.
Eating in for good cooking
Cook at your Florida beach house rental to save money. It can become quite costly to dine out for every meal during your vacation. Most beach house rentals include kitchen appliances and cookware.
Many include outdoor gas grills or patio kitchens. Fresh produce and fish can be purchased year round in Florida.
Visit local Farmer's and Fish Markets and indulge in a variety of fresh fruits, vegetables, and seafood. By cooking just half of your meals in your Florida beach house rental, you could potentially save up to $1,000 or more for a family of four. 
You can not only save money, but have the food you really want and the taste you expect by cooking your own meals.
Try a vacation package
Invest in a vacation package. There are many travel services available via the Internet, or work with a travel agent to arrange a vacation package. Vacation packages can include airline, rental car, rental homes or hotel arrangements.
They can also include cruises, sightseeing adventures and more. Frequently you can save 50 percent or more by packaging your vacation needs. Not only can you save money, but you can be assured that many things are covered in advance. A vacation package can put your mind at ease even before you arrive at your Florida beach house rental.
Florida's beaches are more personal if you rent a beach house. Its one of the best ways to explore the Sunshine State. With all the comforts of home, renting a beach house eliminates the hassles and frustrations often associated with hotel accommodations.
You don't have to constantly shell out hotel related tips and gain a measure of privacy you don't have in a hotel. The tips above should help you in your quest for a Florida beach house rental. 
Copyright © Charles L Harmon
About the Author
Charles writes for his Superstition site. Charles also is selling most of his Domain names.