Kids on a Cruise: Take them on a Family Vacation with You
Vacation time is coming. How many of us want to go on a nice restful vacation but don't really want to leave kids behind. In many cases we just cannot leave the kids behind and have to take them along. What about taking your kids on a cruise?
A cruise could be the best way to travel with your kids to exotic or unusual destinations. You can skip the multiple plane rides and frequent luggage dragging. Going on a cruise is fun and easy compared to many vacations, especially with the family.
Kids are Big Business on Many Cruise Lines
Kids can definitely cruise, especially these days.  Kids are big business and many cruise lines cater to the younger crowd. Many have day care facilities for certain age children and activities for older kids. There are lots of activities for kids if you pick the right cruise.
Research the various cruise lines. Ask your local travel agent for ideas. Many cruise ships allow kids on a cruise, but may not necessarily cater to their needs and interests.
The great thing about cruises is that families can hang out. They can spend some quality time together and do lots of activities all in one spot. It's a relatively stress-free time because the kids can't wander off. You know they are somewhere on the ship and that's reassuring.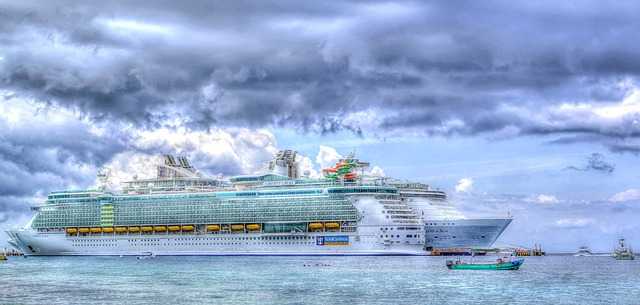 When traveling with the family, you are always conscious of your budget.  One reason cruises are becoming more popular is because of the cost.  For one price, you get food, transportation, accommodations and great entertainment.
There are also many ship activities and special programs just for kids.  Also, there are often cruising specials where kids can cruise for free or low cost.
Cruise Ships Offer a Secure Place for Kids Fun and Play
Cruise ships offer a secure place for kids to have fun and play. That way the parents enjoy the ship's many adult activities. Child care is taken care of. Many times the cruise ship will offer beepers for kids and parents to keep track of each other. 
Youth counselors (similar to the counselors at summer camps) are on board. They keep children active with many activities like crafts, sports, movies and more.
If you are unsure what the cruise line offers for children, there are a few basic questions you can ask your local travel agent. First of all, are there age restrictions? As with other businesses that offer discounts for smaller children, does yours meet the criteria for any price breaks? 
Do the ship destinations have activities suited for kids on a cruise? What about special activities for kids?
If you have small children, be sure to ask if there are cribs or beds available for youngsters. How big are the cabins?  This could be a deciding factor whether you should try to book two adjoining cabins with mutual doors. 
Are there menus designed specifically for kids? Sometimes, ships may have several dining times.  Ask if there is a certain dining hour that is best for families with children.
Do your Homework for Best Cruise for Your Family
Availability of children's activities could be a deciding factor on booking a cruise.  What kind of activities are there for kids? Will there be lifeguards specifically for the children?
Do kids have their own pool to swim in? Check into babysitting services and any extra fees.  Parents may want to take a break from the kids and have a dinner date alone or go dancing.

Before making a decision, do your homework on what the best cruise is for your family.  Keep the timing of your family vacation in mind as well.  Spring breaks and other holidays from school are busy periods for a cruise line. 
If you want to set sail during one of these times, hence booking up to a year in advance may be necessary. The cost may also be higher during those prime periods.
Once you decide a cruise is right for your family and you get on the ship, be prepared to leave your worries behind. Enjoy the next week or so and have fun with your kids.
Plan a non-typical vacation without the usual stress and worry about your kids Therefore carefully consider your next vacation on a cruise with your kids.
About the Author
Charles writes articles and has several domains for sale. He also makes money as a senior citizen.
Related Blogs